Welcome!
I'm Jon Dwoskin. I'm a business coach, author and speaker. I grow businesses big. Very big!
Every business has essentially the same problems, but how you address those issues makes all the difference in the world.
If you are successful but stuck and ready to discuss solutions, contact me at 248.535.7796 to get unstuck and start growing your business today!
In the meantime, enjoy my CEO Playbook, resources, and 250+ video business tips.
Business Coach | Author | Speaker
Does this sound like you?
I am successful, but need to get unstuck and grow my business and revenues rapidly
I need to focus "on" instead of  "in" my business growth
I need someone to hear and see what is being ignored
I want to increase my influencing skills
I need to move into action with clarity
I need to create and implement effective marketing strategies
I need to inspire my team to take action
I need to find my voice and ignite my leadership skills
I need to grow my personal and company brand
I need to open up lines of communication and trust within my company and management team
I need to think big and grow and I don't know what my next step is
I need to get my salespeople making money and growing their pipelines
Are you ready to get unstuck and take the next step(s) in your business growth?
Call Jon today at 248.535.7796
My interview starts ~2:30
Thinking Big Defined:
Doing small things everyday that compound to something BIG!
"Within my first 2 hour meeting with Jon, I understood how to restructure parts of my company, website and mindset as well as figured out an immediate way to increase my income $100,000." -Dan, CEO
"Jon provided fresh energy and perspective into client engagement and business development that produced quick results through the development of a concise strategy.  Thanks, Jon, for your assistance in continuing to grow our business." -Matthew, SVP/Advisor to CEO
"Not only does Jon have a wealth of business knowledge, but every visit is inspirational.  He forces us to think critically about our business and ourselves which is why we have seen so much success and growth with our business." -Jared, President
"Jon quickly broke down our operations and identified target areas for growth and development. Within a few sessions Jon helped structure a clear and concise business plan unique to our niche market segment that complimented our ambitious sales goals." -Ryan, Director
"I couldn't have grown so quickly without your help and support." Adam, Vice President
"Jon has been a terrific business mentor to newer entrepreneur participants in Hebrew Free Loan's Marvin I. Danto Small Business Loan Program. They love working with Jon and have greatly appreciated his diligent, hands-on guidance to help them grow, innovate and be successful on all fronts." David, Executive Director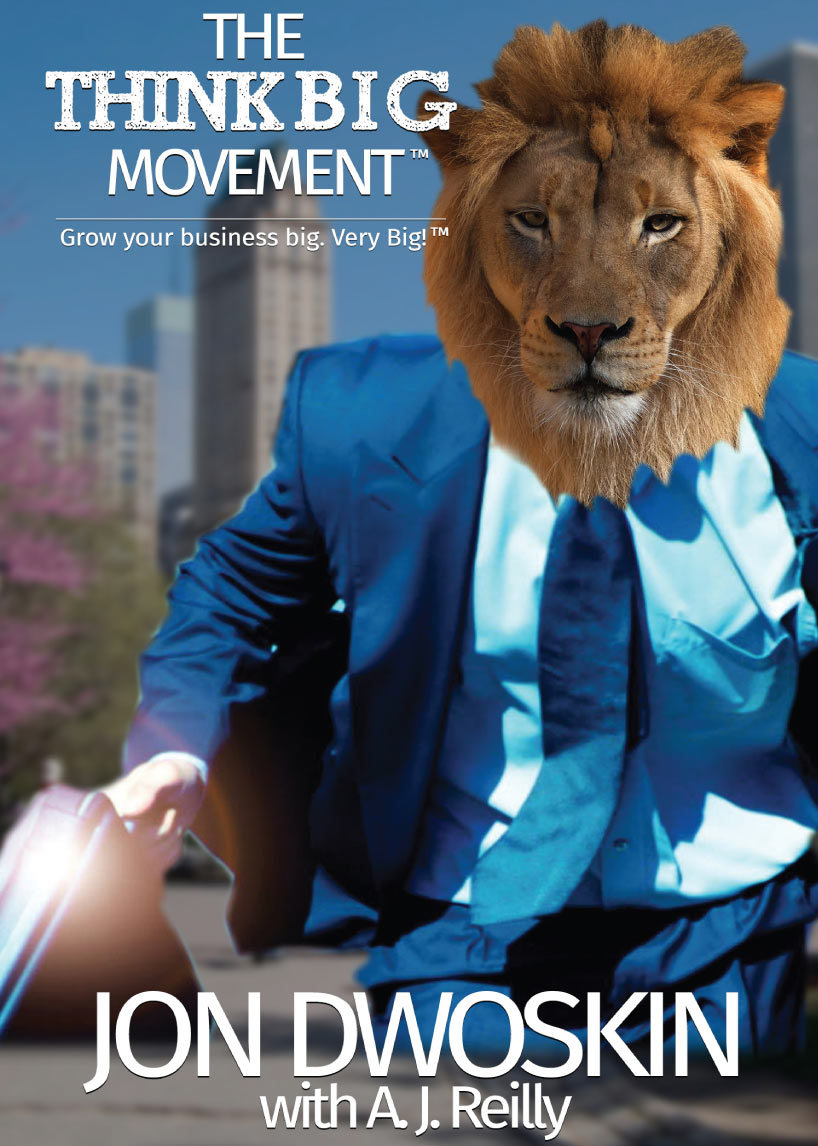 #1 New Release in Business Consulting on Amazon.com
BUY NOW
and start growing your business big.
Very Big!
The Think Big Movement
Grow your business big. Very Big!
By Jon Dwoskin
with A.J. Reilly