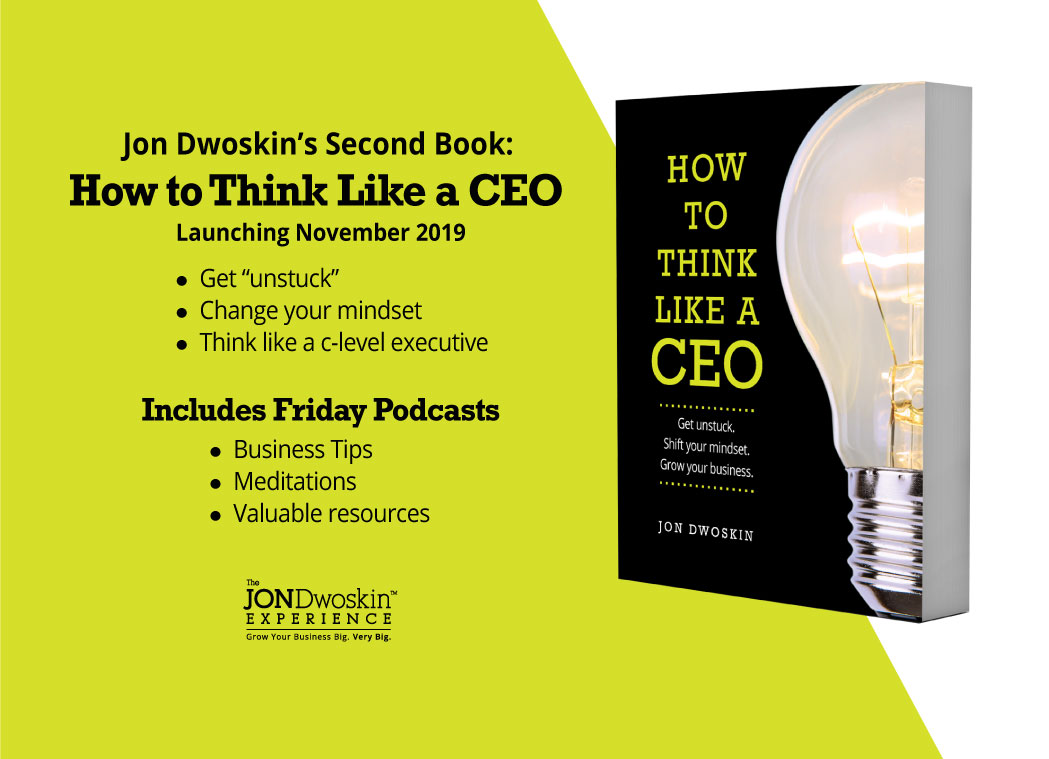 The book launches in November 2019, and will be part of a series that includes Friday podcasts filled with business tips, meditations and other resources for leaders.
HUNTINGTON WOODS, Mich., Jan. 31, 2019 – Jon Dwoskin, business coach, executive advisor, author, speaker and founder of The Jon Dwoskin Experience, today announced that his latest non-fiction book, How to Think Like a CEO, launches in November 2019. The new book on growing one's business outlines his "How to Think Like a CEO" methodology. Dwoskin's new book gives individuals practical, real-life advice and actionable insight on getting "unstuck," changing their entire mindset, and thinking like a c-level executive. The book empowers every individual, no matter what their role within a company or organization, to be a dynamic and empathetic leader. How to Think Like a CEO is a parable, like Dwoskin's debut novel, The Think Big Movement.
As part of the launch of the new book, Dwoskin also plans to launch a new blog series in 2019 also entitled How to Think Like a CEO.
"To be successful, it's critical to be a leader, not just a follower with a prescribed, day-to-day role within a company," explains Jon Dwoskin. "The greatest companies in the world know that bringing the best out in people is critical to success. In my new book, I outline how people can change their entire mindset to be more successful, and ultimately increase their value as a business person, and their value within an organization."
In conjunction with the new book, Dwoskin is also launching a new podcast series every Friday entitled How to Think Like a CEO. Starting in August 2019, he plans to stream three, two-minute episodes each Friday through year's end. The format will include a two-minute business tip on how professionals can manage their days, a two-minute tip from a business leader on how they run their days and a two-minute meditation with a co-host. 
How to Think Like a CEO centers on a six-step methodology that will effectuate major changes by providing individuals with the following:
Guidance on how to think like the CEO of their own business
Resources to empower everyone to be their best and take action
Insight on how to anticipate what's coming next before it happens, and staying ahead of others
Ways to grow each team member's confidence in every aspect of the business
Different ways to invest in their business and themselves
Tools, techniques and best business practices for recruiting, training and retaining top talent
Advanced leadership and influence skills
For more information on How to Think Like a CEO, visit Jon's website.
More About The Jon Dwoskin Experience
The Jon Dwoskin Experience is an executive coaching and business consulting company founded by Jon Dwoskin, a business coach, executive advisor, entrepreneur, author and speaker whose skills were honed in the high-tech and commercial real estate sectors. The company provides a wealth of resources, including Think Big Sales University, blogs, video blogs, daily business tips, books and much more — for salespeople, executives, entrepreneurs and anyone seeking to grow their businesses big. Dwoskin recently released his first book, The Think Big Movement, a #1 New Release in the Business Consulting category on Amazon.com. He was also recently named to the Forbes Coaches Council, an invitation-only committee of the most successful business coaches.