Jon Dwoskin's


7-Day Time Management Course
FREE micro-learning course designed to grow your business big. Very BIG!
Tips, videos & worksheets included.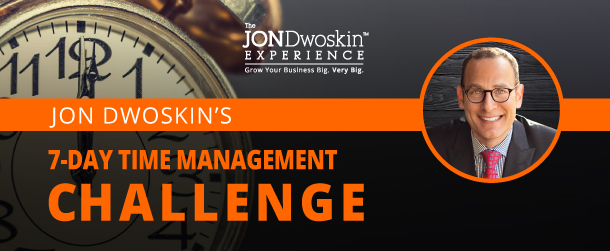 START TODAY!
Cost: FREE
Time commitment: 2 minutes/day for 7 days
Are you struggling to find more time in each day for your business and your life? If so, you're not alone.
Time management is one of the biggest obstacles preventing business owners, leaders and teams from breaking through to excel with efficiency that allows them to grow their businesses and manage a fulfilling personal life.
Jon Dwoskin's 7-Day Time Management Challenge will teach you the core fundamentals to mastering your calendar so you can master your business and life!
7-Day FREE Course Includes:
Daily email challenge
Video guides
3-day tracking tool
Bonus download upon completion
"The purpose of time is to learn how to use time."