Jon Dwoskin's

How to Think Like a CEO Keynote
Empower and inspire your team.
Jon Dwoskin's

How to Think Like a CEO Keynote
Empower and inspire your team.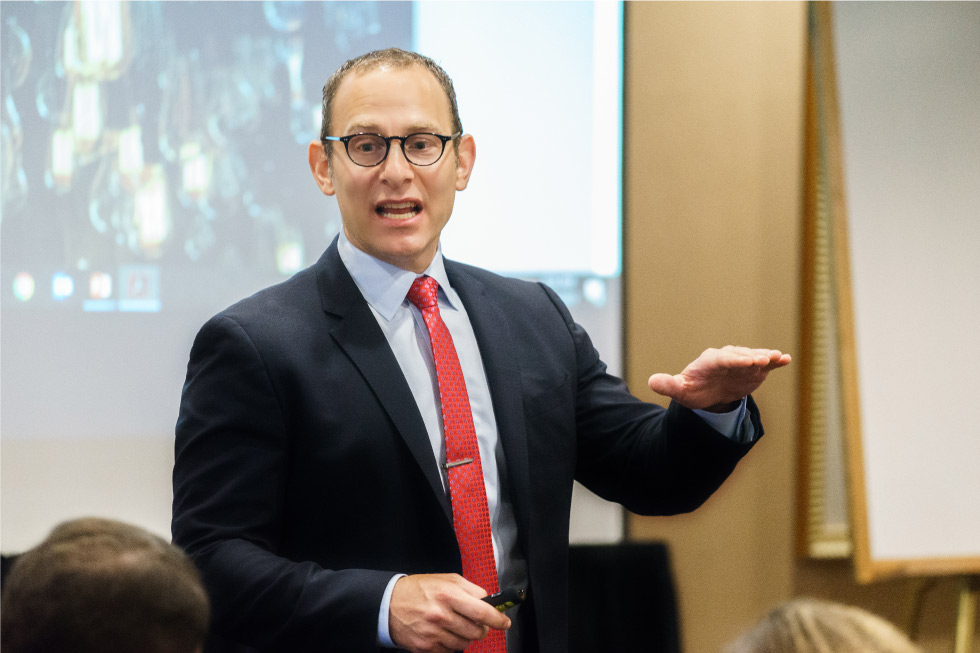 Empower and Transform Your Team
Jon's How to Think Like a CEO Keynote will increase your team's awareness and evolve their mindsets.
Jon uses his proven methods and years of coaching experience to provide your team with the tools, best practices and methodologies that will transform them, their clients and the company.
When your team is empowered, they are more invested in the company's success and in working together to achieve it. With this transformation, your team's work becomes more meaningful and fulfilling, which benefits the health of your team, your business and your bottom line.
How to Think Like a CEO
In Jon's How to Think Like a CEO Keynote, your team will learn to take stronger ownership of their careers and their positions within your company.
By learning how to shift their mindsets from just doing a job to realizing their value and potential, your team will become more invested in their work.
This thought-provoking keynote is designed to increase your team's awareness of how each individual role comes together to create a company-wide synergy.
Jon will share his energy, positivity, insight and valuable tools to invigorate your team and help take them – and your business – to the next level.
"Jon was an amazing speaker who gave us all concrete and actionable things to work on!"
Michael Todasco,
Director of Innovation at PayPal
Schedule Your Custom
How to Think Like a CEO Keynote
Keynote follow up options are available.
Contact Jon for details and to schedule your custom keynote experience: jon@jondwoskin.com 248.535.7796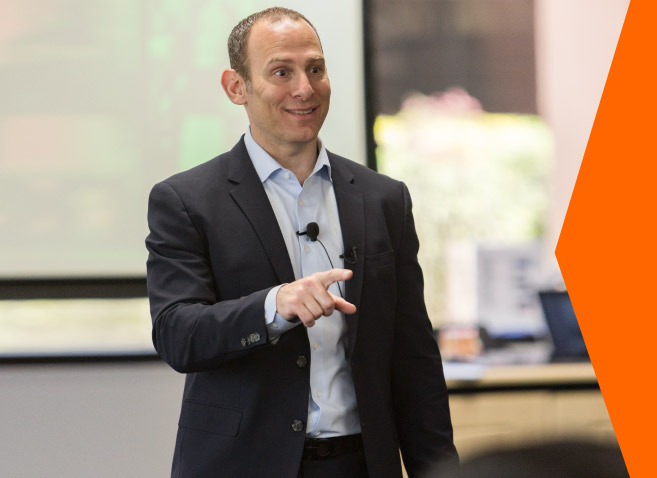 Additional Keynote Topics Include:
How to Manage and Influence People
Own, Control and Protect Your Time
Close More Sales
"The key to making it stick is follow up."
Jon Dwoskin
"Jon's Own, Control and Protect Your Time seminar is a toolbox of advice ready for immediate use. And more than just great time management advice, Jon shows how incremental change ripples through an organization, creating better communication between and among teams, reducing wasted time and energy."
Mike
"I attended the FEI Hot Topic Presentation on Time Management by Jon Dwoskin. Jon shared some great tips and new ideas on how to improve our individual time management skills and how to help our teams rethink how they look at managing time. He even shared the full presentation with all of the tips, worksheets, and ideas, which will allow us to share the time savings more broadly across our teams. The content applied across all types of businesses and from the individual to the team. It was very well done and applicable to all."
Kim
"Jon was an amazing speaker that gave us all concrete and actionable things to work on! Of the 100 attendees, nobody left the room or so much as looked at their phone for the two hours- Jon had the room's attention from the start- not an easy thing to do with such a diverse group! We want to have Jon back again!" Michael Todasco, Director of Innovation at PayPal
"We brought Jon to our PayPal Scottsdale and Chandler campuses to present the Being the CEO of your own domain workshop. It was non-stop information flow of valuable mindset, techniques, mindfulness, time management, ownership, etc. Well worth having him help us to become better at managing our time, taking ownership for our domain, and delivering on our commitments." Troy Giles, Senior Manager, Site Reliability Engineering – Auto Recovery at PayPal
"We've had Jon Wengrow Dwoskin come into Colliers a few times to give us some great mind opening philosophies that have really given me a new mindset how I look at things." Brian, 1st Vice President
"Jon's presentation to 250 of our franchise owners and managers reignited the passion that's deeply rooted within our core values of our company. We were very happy with the excitement around his presentation and know that our franchisees took home many ideas that they could implement into their business right away." Andrew McCuiston, Vice President, Goldfish Swim School Franchising, LLC
"Working with Jon Dwoskin has been the best experience this company has had! Jon put together two programs that were geared completely to the issues and challenges that our sales and management staff deal with on a daily basis. He took the time to thoroughly research us and the needs we had and put together very thought provoking and interactive seminars. The comments afterwards from ALL the participants were extremely positive and one in particular said, "I have been to several seminars but never to one that related so much to my issues and that I could actually walk away with techniques I could use immediately!" Paul, Executive Managing Director
"Jon has been instrumental with helping our team's professional development skills grow. With his guidance and assistance, we have successfully hosted two leadership workshops that have greatly impacted our team's skill set. Our primary focus was learning better communication and time management skills. Jon took our areas of concern and created a workshop that was personalized for our needs. Our management team has seen a tremendous difference within our team – We couldn't have done it without him!" Emily, Lead Talent Services Manager
Ready to grow your business big. Very Big!
Contact me directly for details and scheduling:
248.535.7796 or jon@jondwoskin.com
"Jon spent four interactive hours with over 50 leaders at our site and everyone shared at least one tangible action by the end of the session with the group! I didn't know it was possible to gain as many best practices and tips on leadership as we did in four hours. The entire room was actively engaged, learning, and most importantly LAUGHING through the seminar. I hope we can leverage Jon again in the future for other leadership seminars!" Lisa Scott, Senior Operations Manager at PayPal
"Thanks for the session today. I know our people enjoyed it immensely and got quite a bit out of it. I look forward to scheduling another one down the road!" Andy, President "I enjoyed the Training session and everything you discussed resonates very closely with the type of leader I consider myself to be. Looking forward to putting into action!" Katrina, VP of Sales
"Your session was thought provoking and inspiring" Peter, President "Thanks again for a wonderful presentation!" Toben, President "I would recommend the workshop to all of my co-workers! Even as an individual contributor I found value to use in my day to day." "This workshop was useful and helped show that you can own your own time." "The workshop was extremely well executed, Jon did an excellent job explaining the entire course and spent ample time on many subjects."
"I asked Jon to deliver an intense half-day talk on sales growth and invited all of my clients to attend. Everyone extended their gratitude for hosting the event and to Jon for sharing so much of his knowledge, experience and tools. Leading up to the event Jon was attentive to my personal needs and the exact needs of my group. He delivered exactly what was promised and needed. Specifically Jon is incredible at setting context for what an incredible sales team can look like, and tools to help understand the essential element and how to execute. I appreciate that Jon shares my passion for the discipline it takes to achieve great sales results and I would recommend him to any business looking to create a high performing sale team." Erik, President and Coach
"This morning, you talked about what it means to be a mensch and a leader and well, it's pretty clear that you are both! Thank you for waking up early and speaking to our Jewish young adult professionals who were clearly thirsty for your business knowledge and expertise. After your talk, multiple people mentioned to me that they found your words meaningful and constructive. Those who won your book are eager to read it!! Overall, this morning was a huge success and I owe a lot of that to YOU. Thank you, Jon. Please stay in touch and reach out to me if I can ever be of assistance to you." Rachel, Employment Specialist
"Jon was gracious with his time and flexibility. He spoke to a group of over 50 professionals and in a short time frame, was able to spark a thirst for knowledge, discovery and self-assessment amongst those present." Shimon
"The workshop opened my eyes on being the best leader for my brand. It helped me see there are areas that I want to improve both short term and long term. It also helped me see that each leader has a different way of leading their group, but there is not just one successful way to do this." "I enjoyed every minute of it. It was great." "Jon did an amazing job. He helped me set a personal and work action plan with his easy to follow suggestions. My biggest area of opportunity is time management and Jon pointed out ways I could get back time to myself to reset and refocus."
"I really enjoyed thinking of things from the CEO perspective and can't wait to share with my team!" "There were several agenda topics. It was great to spend more time on the topics that were more impactful like Time Management and the Art of Managing People — and the first topic Mindset – to set the stage. I had some key takeaways for the remaining topics and the timing was adequate." "Jon, you've no doubt added thousands of value-added hours back to the leaders of PayPal!" Lisa "I learned a lot and have much work to do. Thank you for giving us your time." Rob
"This workshop will stick with me throughout my career! Thank you!" Cody "The impact for all in attendance was enormous! Thank you! " Nikki "You, sir, are a treasure. Thank you!" Andre "You're presentation was insightful." Maria "Jon, Thanks so much for giving us your time today to help us save ours every day!" Sarah
"Thank you for an inspiring presentation today!" Kelli "Jon, your presentation has been immensely inspiring! Thank you so much!" Andrew "Jon, you asked us to have an intention for the day. You Far Exceeded it!" Joshua "Thank you for making me more aware of my daily distractions and helping me become a better leader." Erica "Thank you for helping us better ourselves today!" Ashley "Jon, amazing action-oriented takeaways to immediately implement!" Virginia
"Jon, Thank you so much for nurturing my inner-CEO!" Dan "Thank you for empowering us!" Don "Jon, Thanks so much for the added insight to stealing back 'My time'" Tim "Fantastic session! Thanks for visiting and sharing!" Scot "Thank you for the valuable insight and sharing tips for personal growth!" Ashley
"Thank you for teaching us to save time." Krystal "Thank you for teaching us to think like a CEO." Laurel "Thanks for a great class! I'm planning to incorporate these efficiencies in my daily tasks." Nicole "Thank you for sharing all the great tips and tricks to own my time." Angela "Thank you Jon for making me realize that my time and development mean as much as my performance." TJ "Thanks for coming to share your insights and tips. Looking forward to putting what I learned into action." Ellie