Jon's Ongoing Business Coaching
"The organization should be so transparent a child could see it." Jon Dwoskin
Jon, I really appreciate your time and guidance. After 18 years in the business, my meetings with you get me motivated!
Colin, Senior Vice President – Managing Director
Jon, We just got the call from the President of our National company letting us know that we made Gold Circle and that we were the #1 growth market in the entire franchise/company for 2017! We grew by over $1.8M and we couldn't have done it without your guidance. Thank you for sticking with us, helping us work through our challenges, and always keeping us on course.Thank you for being our secret weapon!
Bryan and Jared CEO/COO
"Jon has been a game changer for our business. Not only has he identified how we can be better structured, but he has identified and help implement how we can grow faster and more efficiently. The company culture, direction and motivation is already much improved with Jon's help."
Scott, CEO
Are you successful but stuck yet growth-minded?
Do you feel disconnected to your company, people and culture?
Were you great at starting a company, but need help growing the company?
Are you ready to Think Big?
Let's get started. Call me: 248.535.7796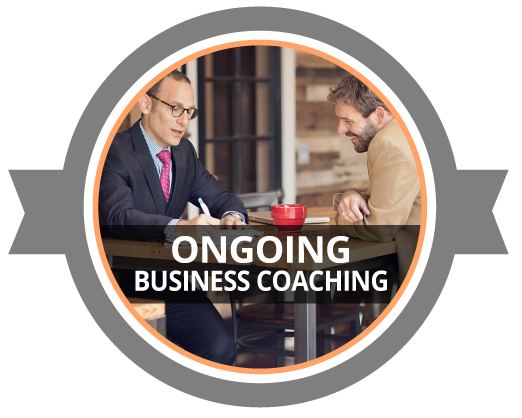 Step 1:
Start Working 'On' Your Business vs. 'In' Your Business
What has you stuck? We will dive deep – very deep – into the reasons you are stuck and enact a plan to transform your company. This in-depth look at every division of your organization, your culture and your leadership will create your blueprint for the future. You will find your authentic voice and learn to be an influential, inspirational leader who takes action.

Step 2:
Transparency and Profitability
No more water cooler talk. We'll open up the lines of communication with your leadership teams and get them working together — instead of talking about each other … and you! We will clearly define roles and responsibilities, increase accountability, develop a foundation of systems and processes, and expand each person's capacity. It's time to get real and bring every issue to the table so we can dissect and reform them, establishing a healthy, productive company culture. Let's do this!
Step 1 Sample Details
Raising YOUR level of Awareness, Paradigm Shift Thinking & Taking Care of Yourself and Company First
Defining: Who We Are, What Business We Are In & What We Believe In
Protecting Your Time & Delegating
Creating the Systems, Processes & Packaging
Creating the ____New Business Experience
Resetting Mission Statements, Vision, Culture, Morals, Ethics, Standards, Company Focus, Reputation & Metrics
Brain Mind-Mapping: Getting out of your Head and Onto Paper
Paradigm Shift Thinking: Turning Obstacles into Strategies & Results
Getting Rid of Noise and Distractions
Time Management: Focus, Buffer, Free
Defining Your Company Brand and Target Markets/Clients
Increasing the Company's Margins & Profitability While Decreasing Expenses
Step 2 Sample Details
Transparency
Organizing the Organization
Working with the Team: Perfection vs. Making a Decision & Figuring It Out
Communication Redefined: Words, Tone, Physiology
Setting Aggressive Business Goals: 1-Year Plan, 3-Year Picture, 5-Year Focus, 10-Year Target
Growing Your Team: Defining Who Does What and Why on Your Team, and Getting the Right People in the Right Seats
Zoning-In on Each Person's Individual Strengths and Unique Superpowers
Leading as Leaders: Empowering Decision-Making & Mistakes
Articulating Your Company's Differentiating Factors & Value Proposition
Creating Your "Secret Sauce"
Focus: Working ON vs. IN the Business
Working Proactively, Not Reactively

Step 3:
Keeping up with Change: Innovation & Planning
Today, it's all about strategic innovation. Get ready to create an in-depth business plan and organizational overhaul to get the right people in the right seats, doing the right things at the right time. We will build your one-, three- and five-year plan (and beyond), as well as essential strategies for social media and marketing/branding. We'll put proven methodologies in place, establish measurable goals and accelerate business growth. We'll also launch your online business model as an extension of your brick-and-mortar company, if applicable. Your passion will no longer be your prison. Get ready to innovate!

Step 4:
Continuity of Practice: The Secret of Success
A cutting-edge mindset keeps you ahead of the curve. Be consistent and accountable. Be the leader your team wants to follow. In addition to tackling your pressing issues, we will consistently infuse methods to create deeper team engagement, nurture future leaders and implement new systems to create a thriving and productive atmosphere. A tree never stops growing. Neither should you!
Step 3 Sample Details
Using Technology to Grow Your Business
Breaking Down Your Business Plan into Measurable Quarterly/Monthly/Weekly Goals
Listening/Asking Questions that Influence & Close: Gritty Sales Training with Role Playing
Growing Confidence & Courage
Simplicity & Status: Building Your Own Board of Directors
Training/Building Your Team to Be Independent, Closers and Growing Their Business & Your Company Each Month
Sleeping Well at Night: Being Effective and Efficient
Having an Impeccable Word: Getting Rid of the Critical Voice
Step 4 Sample Details
Increasing Each Person's Influencing and Leadership Skills
Incorporating Rituals
Urgency Redefined
Taking Sales, Market Share and Confidence to the Next Level
Working Off and Redefining Metrics
It's Not All About ROI
(Re)Building Your Brand: PR & Marketing Strategies
Building the Team
Accountability 501
Role Play/Sales 301
Asking for Introductions vs. Referrals
Creating Your Board of Directors
Refining the "Company," Processes & Packaging"
Maintenance of Steps 1-3

Step 5 and Beyond:
Relentless Reinvention
By continually gaining new perspective on everything you do, you'll experience a company-wide paradigm shift in the way you do business.
We'll prepare you to innovate and evolve your brand, culture and business to a level you've only dreamed of. Think Big! It all starts with you!
Step 5 Sample Details
Grow 10x
Growing Your Culture, Brand & Image
Recruiting Support Staff and New Team Members
Transformation & New Perspective
Always Finding a Better Way
Keeping and Growing from Your New Edge
Being Comfortable Being Uncomfortable
Avoiding Old Habits
Being the Great Conductor
Maintenance of Steps 1-4
The value of business coaching from Google CEO Eric Schmidt.
Want to get great at something? Get a coach - Atul Gawande
Invest in yourself - Warren Buffet
Ready to invest in the growth of your business?
Contact me today 248.535.7796 or jon@jondwoskin.com
Ready to Strategize with Jon...
(a sampling)
"Jon recommended an Offsite Day to help grow our company and mentioned that it was analogous to a half-day boot camp. Jon is very dynamic, driven, and leads with transparency. He takes you all the way to the end and does not leave any wiggle room. We had to look hard at what we individually were doing right and not doing right within the company. He was able to turn every negative into a working positive. Before our eyes, our goals were creatively interwoven into making a tighter working machine with higher realistic goals. Every business needs a high-energy Jon Dwoskin."
Deb, CEO

"Within my first 2 hour meeting with Jon, I understood how to restructure parts of my company, website and mindset as well as figured out an immediate way to increase my income $100,000."
Dan, CEO

"Personally, my work with you has helped me to better research and prepare for my sales efforts. Just a few "little" (not so little!) coaching points you shared helped me to secure 4 meetings with Fortune 500 companies within a few weeks of our coaching session!"
Rob, President of a Forbes Top 25 Company
"Jon provided fresh energy and perspective into client engagement and business development that produced quick results through the development of a concise strategy.  Thanks, Jon, for your assistance in continuing to grow our business."
Matthew, SVP/Advisor to CEO