Jon's Raving Fans
"I'm grateful, thankful and appreciative to do what I love and help others grow." Jon Dwoskin
"Thanks Jon, I had a blast too. I have a feeling that'll prove to be a life changing meeting." -Reno, CEO
"Jon has been an instrumental and influential piece of my business. He has helped me grow my business exponentially by advising on strategic goal setting, planning and execution. Jon sees the whole picture and will work hard to complete every assignment." -Andrew, Vice President
"Jon was born a leader and entrepreneur. He has the experience and track record to guide any motivated business person to new heights. Jon's success in the business world has provided him with the tools necessary to advise others." -Andrew, Vice President
"I've had the good fortune of being coached by several outstanding people in my 50+ year career, but Jon is in first place on my list." –Tom, Associate
"Jon is a business whisperer. He seemed to know exactly what was going on with my company the minute I began working with him." –Adam, President
"Jon has the uncanny ability to see through all the noise you experience in your professional life and force you to focus on the critical elements. " –Edward, Senior Vice President
"Jon has been a terrific business mentor to newer entrepreneur participants in Hebrew Free Loan's Marvin I. Danto Small Business Loan Program. They love working with Jon and have greatly appreciated his diligent, hands-on guidance to help them grow, innovate and be successful on all fronts." – David, Executive Director
"Jon's a brilliant business person with a truly killer instinct on execution. Has a great intuition with people and a knack for moving the ball forward as fast as it can possibly move. Anyone would be better off working with Jon." -Scott, Owner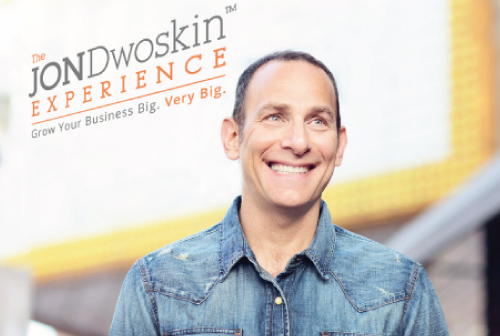 I've been working with Jon for over four years. Here are a few reasons why:
Jon has an off-the-charts gift of discernment. He's the best I've ever seen at identifying and clarifying the real issues.
Jon can somehow expose my real problem and make me feel ok about myself at the same time.
Jon is gifted at helping people get moving in the right direction. He's an accelerator.
Jon has an uncanny sense of knowing what to focus on for the most meaningful results.
I can get tangled up in the details–Jon helps me see what is essential and what isn't and to get moving toward what really matters.
I haven't met anyone with better gut instincts than Jon Dwoskin.
Jon is one of the more productive people I know.
Jon has the rare ability to expose the problem without making it hurt.
Jon somehow simultaneously gets results while being a joy to work with.
Behind the scenes–when nobody is looking or listening–Jon is a real-deal authentically good man.
Jon meets everyone right where they're at by truly listening and caring. It's from that place that he's able to be so effective at helping others grow to the next level.
Jon somehow balances a relentless search for the best solution with taking quick and decisive action toward the goal line.
Jon inspires big dreams but knows how to get me to take the next incremental step.
Thanks Jon for getting me unstuck and Thinking BIG!
Jim, Wealth Advisor
I was on fire after my consultation with Jon Dwoskin; fired up and ready to take action! As a solopreneur I do it all and that can be overwhelming at times. Jon provided me a reality check with practical strategies and simple tactics I could implement immediately. Jon also gave me the encouragement I needed to see the long term potential while anchoring me to my original vision for starting my business. Solutions focused, results oriented, Jon is clearly committed to delivering optimal success for his clients while providing them with the highest level of service. After my initial session with Jon, I was able to Think BIG and take strategic action. I highly recommend Jon Dwoskin as an expert business coach; a true gentleman, a savvy businessman and yes…a fire starter.
Lisa, CEO
Let's face it. This new virtual meeting world is overwhelming both in content volume and potential time drain. Detroit Economic Club members have greatly benefitted from Jon's pre-pandemic, in-person; and recent virtual seminar on time management. On both occasions our members commented how much they appreciated Jon's ability to cut through clutter and offer actionable items in an efficient use of their time. No better example of time management right before our eyes/screens!
Steve Grigorian, President & CEO, Detroit Economic Club
Jon's ability to hold an audience through his thought-provoking and action-oriented conversation was a game changer! He takes you on a journey of reflection on how you use your time, and provides you with practical solutions to create habits that are crucial to productivity and wellness. Having Jon speak to the DEC Young Leaders turned out to be the most well-attended and positively-reviewed professional development seminar we've had.
Cristina, Program Coordinator, Detroit Economic Club
"I walked away with a multitude of tools that will exponentially improve my time management skills."
Eric, Senior Communications Strategist
Jon was an amazing speaker that gave us all concrete and actionable things to work on! Of the 100 attendees, nobody left the room or so much as looked at their phone for the two hours- Jon had the room's attention from the start- not an easy thing to do with such a diverse group! We want to have Jon back again!
Michael Todasco, Director of Innovation at PayPal
Jon spent four interactive hours with over 50 leaders at our site and everyone shared at least one tangible action by the end of the session with the group! I didn't know it was possible to gain as many best practices and tips on leadership as we did in four hours. The entire room was actively engaged, learning, and most importantly LAUGHING through the seminar. I hope we can leverage Jon again in the future for other leadership seminars!
Lisa Scott, Senior Operations Manager at PayPal
We brought Jon to our PayPal Scottsdale and Chandler campuses to present the Being the CEO of your own domain workshop. It was non-stop information flow of valuable mindset, techniques, mindfulness, time management, ownership, etc. Well worth having him help us to become better at managing our time, taking ownership for our domain, and delivering on our commitments.
Troy Giles, Senior Manager, Site Reliability Engineering – Auto Recovery at PayPal
"Within my first meeting with Jon, I understood how to restructure parts of my company, website and mindset as well as figured out an immediate way to increase my income $100,000."
Dan, CEO
Insights from the Jon Dwoskin Experience have empowered me to be more productive. After just one workshop titled Own, Control and Protect Your Time, I walked away with a multitude of tools that will exponentially improve my time management skills. Best of all, they are free and easy to implement. Prior to his presentation, I often felt like my typical workday consisted of endlessly spinning my wheels. Now, I feel like I have ownership of my calendar and the skills to enhance the efficiency and energy levels of my project teams.
Eric Younan, Senior Communications Strategist, DTE Energy
In the brief (2-hour) session, Jon clearly articulated relevant content, and shared exercises and tools for how to implement these intuitive learnings in our daily life and within our professional teams. The information and tools are relevant to individuals in any part of the organization. It was an incredible use of time!
Gabe
Great workshop with great tools that can be implemented instantly! I highly recommend this for everyone as it reminds us of the importance of time and how we can make a change in managing it.
Mariam
Jon's seminar on time management was very insightful and offered many tools and suggestions to help with getting time back. I would recommend that anyone who wants to understand and improve their time management give Jon a call.
Jonathan
What a terrific seminar.
Jon was able to communicate simple and foolproof techniques, but also demonstrate the immense value the implementation of those techniques will bring to your life and workplace.
Joseph
Thank you, Jon. The sessions were instrumental in helping our team understand the importance of synergy and communication. I was impressed watching the team grow more vulnerable as we progressed through the series while improving our connectivity too.
Kristen, Vice President
Thanks Jon, Appreciate the kudos and grateful we pulled in an additional six figures of fee based on your guidance! Talk next week!
Vince, Investment Advisor
Jon "helped take us from inception to doing over $6M in annual sales in 2019."
Jared, CEO
I've been coaching with Jon almost a year now. I'm in sales and have never worked with a coach before. We all struggle with accountability, discipline, and implementing new strategies. It takes a special person give direction to someone, when there are a million places to start outside of their comfort zone and take real steps to accomplish goals. Jon has been great at making this obtainable and not so overwhelming. The great news – my business has increased and clients that have fallen off have come back around. I highly recommend Jon and encourage you to reach out to him to give your business that boost that it's been needing.
Niki, Sales Executive
Jon is a brilliant business mind who helped us grow our company over the last four years. He helped take us from inception to doing over $6M in annual sales in 2019. Jon helped us navigate through unique challenges and kept us focused as we grew.
Jared, CEO
Jon is a great motivational speaker. His charisma and stage presence keeps you on the edge of your seat wanting more. Jon gave solid ideas and backed them up with results of how they have worked for him or another client of his. Thank you for taking time out of your busy schedule to speak at the 2016 MAR Convention!
Angela, Licensed Realtor
What impressed me the most about Jon was his ability to make an immediate impact. He was able to very quickly grasp the intricacies of our unique business so that he could provide specific and meaningful insights right out of the gate. He showed a remarkable ability to connect with the different stake-holders within our company so that he could help effectively navigate through any pain-points and potential road blocks. All in all, we couldn't be happier with both the process and the results from working with Jon!
Win, CEO

Jon, just wanted to drop you a quick note of HUGE gratitude for all the time you've spent with the team and support you've given. Each time we spoke I walked away with a better understanding/idea/perspective/all of the above, and for that I'm super grateful. Anything I can do to help in your world, please don't hesitate to let me know! Love the energy and mission you are on in life!
Josh, Vice President of Operations
Jon, I wanted to send you a note to thank you for all your guidance these last few years. We have been through a lot together and you have helped our partnership stay focused, stay friends, and grow a successful business. We couldn't have gotten this far without you breaking through our BS along the way and I can't tell you how much it means to us. I know your thing is "think big", but I prefer to say that you have helped us think smart, think strategic, and simply think before we act. We are truly blessed to have you in our corner, thank you!
Jay, CEO
Thank you so much for this morning's enlightening and informative program. I'm looking forward to bringing back some of the takeaways your presentation to my colleagues to create and foster a more productive work environment. I especially enjoyed the concept of establishing morning rituals and implementing "executive time" I think those goals will help me tremendously as I navigate my future time management.
Marcella
"I was trained as a broker for two years by Jon and I can truthfully say that he knows more about sales than any other person I know."
Allan, Real Estate Attorney and Former Broker
Jon is a fantastic speaker and really opens your eyes to how much extra time there is within your day that's generally wasted. There is a fine balance between "water cooler" talk and positive bonding talk between coworkers. The amount of time when you stop to think about how much general chatting that takes place within and office is outstanding. Taking 10+ mins to figure out lunch plans with someone once a week even. For this I can foresee myself gaining plenty of hours back into my days and weeks going forward. Jon has a strong message and is very engaging. Take some time to reflect why you might be fired from your current position. Now start working to improve those bad habits. Not only are they healthy but they will give you more time back in your day.
Jon, thanks for a wonderful morning and seminar. I look forward to implementing several ideas into my daily life so I can feel less stressed and overwhelmed.
Dan
Thanks again for a great morning! I can't lie – I was a bit skeptical about attending today, as I thought my time-management skills were already pretty good (being a mom of 3 under 2 at one point and working full-time/managing 5 staffs really doesn't give you a choice but to be), but you helped me realize that I could be doing a lot better in terms of effectively managing my time. I am really excited to take back these learnings and exercises to my teams at GM – I know they will be appreciated, as one thing that everyone values is more time! I didn't think that this seminar was going to be so self-reflective, but the Hire/Fire and Start/Stop exercises allowed me take a deep look at myself and how I operate as a peer and leader. The Paper Exercise, in particular, stuck out to me, as it really highlighted the idea that everyone hears the same directions differently. As a result of the seminar this morning, I know I will make changes that will help me be more successful long-term. Thanks again, and I look forward to reading your book, as well as the one by Brene Brown… now that I have so much extra time 🙂
Chanel
Jon Dwoskin's presentation to our CFO group yesterday was insightful and worthwhile. I would definitely consider using him in the future.
Matt, CFO, CPA, MBA
Who says "You can't teach an old dog new tricks?" Seriously though, you have brought some fresh ideas and helped remind me of the basics in this business, for example: disciplined cold calls, obvious sources of BOV's and reminders of getting the most information from the calls.
It is easy when we are all very busy to get way from these foundations and you have helped me stay on track with our calls.
Rick, Managing Director
"We grew by over $1.8M and couldn't have done it without your guidance."
Bryan and Jared CEO/COO
I've been a marketer for 28 years and I can honestly say I've gleaned more from you in the last 2 years than I have in my whole career.
Thank you for believing in me, pushing just enough, but not too much to make me more efficient and better.
You bring out the best, I can't thank you enough.
Ginger, Sales Executive
I appreciate you giving us insight into a more efficient workday…work-year! I hope everyone realizes the help you just gave them..
Daryn, Partner
"Just a few "little" coaching points you shared helped me to secure 4 meetings with Fortune 500 companies within a few weeks."
Rob, President of a Forbes Top 25 Company
After owning my business for 23 years, I knew it was time for a fresh set of eyes and a reboot because I was stuck.
They only person I would consider trusting with that task was Jon Dwoskin and he did not disappoint. In just one meeting, he offered me great insight into ways to up my game and areas I needed to improve on. The second meeting continued to be a game changer. Jon is easy to work with and nonjudgmental. He also has an incredible gift of looking at a business and knowing how to guide you to get you unstuck. The new approach we worked on has already generated new business with more in the pipeline. I can't wait to see what our next session brings.
You ROCK, JD.
Joan, President
Jon's Own, Control and Protect Your Time seminar is a toolbox of advice ready for immediate use. And more than just great time management advice, Jon shows how incremental change ripples through an organization, creating better communication between and among teams, reducing wasted time and energy. I have already recommended Jon's online tools and podcasts to clients and peers for use in the addressing challenges they see in team building and time management.
Mike
I attended the FEI Hot Topic Presentation on Time Management by Jon Dwoskin of The Jon Dwoskin Experience. Jon shared some great tips and new ideas on how to improve our individual time management skills and how to help our teams rethink how they look at managing time. He even shared the full presentation with all of the tips, worksheets, and ideas, which will allow us to share the time savings more broadly across our teams. The content applied across all types of businesses and from the individual to the team. It was very well done and applicable to all.
Kim
Jonathan, every encounter is enlightening. Keep teaching an old dog new tricks. We appreciate your efforts and input.
Marc, President
The best thing you can do for your company, your employees, and your life for that matter is hire Jon Dwoskin. Enlisting Jon is like having a new board of directors to guide your business to new heights. With his Think Big process, your employees will be better, your work environment will improve and your path to better decisions will become clear. Even more important, Jon is great person and brings a positivity to every meeting that every business owner needs. Jon is the best.
Matthew, President
"Jon is a great motivational speaker. His charisma and stage presence keeps you on the edge of your seat wanting more."
Angela, Licensed Realtor
As we were gearing up to finish the year strong, our Vice President of Sales had to unexpectedly leave the company. We had seasoned sales team members who needed attention to help move many deals to the close category and a group of new salespeople that needed coaching to start making traction. I was preparing to step in but, as President of the company, I know my strengths. Leading a sales team is not one of them. Jon has been a trusted partner of ours for many years and has coached and trained our sales leadership, sales team, and is a regular presenter at our annual sales summits (which he consistently received the highest satisfaction score). I called Jon to ask if he could step in and lead the team while we went through the recruiting and interviewing process to fill the role. Jon quickly came on board, stabilized the team, got the seasoned salespeople focused on closing and building their pipeline, helped coach and train the new salespeople, and allowed for me to keep my sanity and do what I do well at the company. I regularly checked in with the sales people for feedback on working with Jon and they thanked me for bringing him in! Along the way, Jon helped us during the recruiting and interviewing process. Once we hired for the role, Jon helped make a smooth transition and continues to help. I'm a huge Jon D fan. So much so, that if you ever have any questions about him, I encourage you to call me directly so I can share my experiences voice to voice.
Rob Dube, President, imageOne
Jon exemplifies high level strategic thinking that drives results. He has the unique ability to ask the right questions to determine how different initiatives can create growth for an individual or organization while weighing in on all the benefits and costs. Jon's dynamic personality set him apart as an exceptional motivator who speaks to all types of audiences and continuously provides skills and resources to accelerate business.
Just wanted to thank you for another amazing meeting yesterday. I've never felt more prepared with specific goals and a game plan for the new year than I do right now. I've always had goals, but not ones that could be measured and so strategic. With 29 years of marketing, you've helped me in this online/virtual era find a way to stay connected to my clients. Thank you for helping me get to the next level!!!
Ginger, Salesperson
Thank you Jon. Your words of wisdom echo in our ears. Thanks for your time and support.
Melissa, President
Last night at a NEXTWork Committee meeting, we recapped the Morning Mingle event at Social Kitchen & Bar and wow, everyone was raving about how well you spoke. Your advice and tips were practical, eye-opening, understndable and interesting. On behalf of JVS and NEXTGen Detroit, thank you for volunteering your time and sharing your wisdom to help our Jewish young adult profesionals. I hope you'll stay involved with us and that we get to connect again soon!
Rachel Devries
I asked Jon to deliver an intense half-day talk on sales growth and invited all of my clients to attend. Everyone extended their gratitude for hosting the event and to Jon for sharing so much of his knowledge, experience and tools. Leading up to the event Jon was attentive to my personal needs and the exact needs of my group. He delivered exactly what was promised and needed. Specifically Jon is incredible at setting context for what an incredible sales team can look like, and tools to help understand the essential element and how to execute. I appreciate that Jon shares my passion for the discipline it takes to achieve great sales results and I would recommend him to any business looking to create a high performing sale team.
Erik, President and Coach
"The workshop was outstanding – it breaks down each element of success to its most basic level…"
Joseph, Vice President
This morning, you talked about what it means to be a mensch and a leader and well, it's pretty clear that you are both! Thank you for waking up early and speaking to our Jewish young adult professionals who were clearly thirsty for your business knowledge and expertise. After your talk, multiple people mentioned to me that they found your words meaningful and constructive. Those who won your book are eager to read it!! Overall, this morning was a huge success and I owe a lot of that to YOU. Thank you, Jon. Please stay in touch and reach out to me if I can ever be of assistance to you.
Rachel, Employment Specialist
I was trained as a broker for two years by Jon and I can truthfully say that he knows more about sales than any other person I know.
Allan, Real Estate Attorney and Former Broker
Working with Jon was an experience that I will always look upon as transformational. He listened and helped me identify the challenges I was having with myself and with my team. The difference maker was that Jon knew how to help me address them in a methodical way, and showed me the tools to continue on the path to greater success personally and professionally. You can read all about how to do that, but Jon put it to practice. As a result of our time together, I have seen improved performance and job satisfaction in my team members, a greater self-confidence in my own ability to lead, and an increased positive perception about my leadership that has led to new opportunities I never thought possible.
Sam, Lead Recruiter
Jon has been instrumental with helping our team's professional development skills grow. With his guidance and assistance, we have successfully hosted two leadership workshops that have greatly impacted our team's skill set. Our primary focus was learning better communication and time management skills. Jon took our areas of concern and created a workshop that was personalized for our needs. Our management team has seen a tremendous difference within our team – We couldn't have done it without him!
Emily, Lead Talent Services Manager
Jon, We just got the call from the President of our National company letting us know that we made Gold Circle and that we were the #1 growth market in the entire franchise/company for 2017! We grew by over $1.8M and we couldn't have done it without your guidance. Thank you for sticking with us, helping us work through our challenges, and always keeping us on course.Thank you for being our secret weapon!
Bryan and Jared CEO/COO
Thank you for the work you have done with our sales team this year. Since beginning our engagement with you, our sales leadership is laser focused on clear expectations, accountability, and coaching to help the sales team hit and exceed their goals (which has happened!). As a result, the sales team is energized and also laser focused.
Personally, my work with you has helped me to better research and prepare for my sales efforts. Just a few "little" (not so little!) coaching points you shared helped me to secure 4 meetings with Fortune 500 companies within a few weeks of our coaching session!
Because of the tools and coaching you've provided, we are preparing to double our sales team in the upcoming year. I'm excited to continue to take our sales acumen to even greater heights with you in the future!
Jon conducted a 3-hour training for our mid-level managers. Each of the 16 people walked away with multiple tools, best practices and strategies to implement into their day and are now better equipped to train the people they manage. His valuable insights to understand the human and business element of people and business was priceless to the growth of our people and company. Jon's ability to connect to our group and specifically his ability to connect with each person individually gave all of our managers the ability to bring their best selves to the training and grow their skill-set.
Jon's content, custom tools and systems, perspective, strategies and humor connected our group to push us to our next level of learning. Jon shared real life stories which helped our team to "hear" his message and incorporate what they were learning into their everyday management.
Jon has done multiple workshops for our group and always gets to the heart of the people, understands the exact training our group needs, comes overly prepared and breaks down real life scenarios going on in our company, reverse engineers the scenarios and gives us new "teachable moments" on how to better communicate, follow up and bring the best out of those we manage. Our team is continually becoming better managers thanks to Jon's training. Thanks Jon for working with our team, me and our CEO in the growth of our business.
Jon "has the sales experience, managerial skills, and seemingly insatiable personal- development- inspired drive to mold powerhouse brokers."
Joseph, Vice President
Thanks for a great experience and help with jump-starting my career.
It has been a fun journey so far and can't thank you enough for the motivation and tools along the way.
Thank you!
Derek, Investment Advisor
Jon, I really appreciate your time and guidance. After 18 years in the business, my meetings with you get me motivated!
Colin, Senior Vice President – Managing Director
Jon, You got everyone thinking and pumped. Awesome!!! Thanks for being a part of what is going to be an amazing year!
Rob, President
"Jon's content, custom tools and systems, perspective, strategies and humor connected our group to push us to our next level of learning. "
Jamie, Regional Director
I've never worked with someone that is as high energy and as excited to get it right!  Jon – I really appreciate everything you brought to the table.
Jon's insight and coaching has helped our business get back on track.  He is highly skilled at aligning people and teams within an organization.  We have a renewed focus and are growing our market share.
Jon, Can't thank you enough for all of the help and continuous support over the last few months. You have been a great motivator and an even better teacher.
Derek, Investment Advisor
Jon's ability to challenge our staff to identify opportunities and devise strategies was invaluable. His direct and engaging approach helped our company bring its mission into focus and inspired a clear path for achieving that mission.
Jon has been a tremendously effective executive coach to help me get the right mindset, right plan in place and right level of commitment and accountability I needed to take my business to its next level.
"Jon's direct and engaging approach helped our company bring its mission into focus."
Kathie, Senior VP and CFO
Working with Jon has allowed me to think of my law firm in a creative and expansive manner that I previously had not.   He was always accessible to me and had a wealth of ideas to keep my business moving forward.  His dedication to this process has been remarkable and appreciated!!
I met with Jon Dwoskin not really knowing what to expect.  I am now extremely happy I met with him.  Just within 45 minutes of talking we came up with many ideas and concepts to move my business forward.  Implementing the concepts has already shown tremendous growth with my business.  The Jon Dwoskin Experience was well worth the time and investment.
Thank you Jon! You have truly helped in so many ways!  I look forward to growing and evolving even more.
Jon is like having your own/custom COO to always guide you in the right direction, with the right cutting edge strategy, while always keeping you thinking about what's next.
When we found out about your crash course business reviews I was a bit skeptical.  What we got was so much more than a business review.  You have helped us dissect all that we have done and find out exactly what we need to be doing to not only meet but exceed all of our goals professionally and personally.  Your ability to get to the core of what we need to work on is remarkable.  My only regret is that we didn't do this sooner.
During our first six months of working together, Jon has provided not only valuable insight, but also acted as an outside board member of my company.  His rational, insightful and valuable business advice has helped me think about the future growth of my company and focused my attention on important aspects of my business that were not getting the required attention.  Our "on-site" day with my management team was great and allowed my team to articulate important insights about the direction of my company that would have otherwise gone unheard.  We had another session scheduled right after the first ended.  Most importantly, Jon is a thoughtful person and thinks about the world in a positive manner.  He makes you feel that you can accomplish anything and that only small changes in perspective can have big effects for your business and life.
The best investment I have ever made in my professional self.
Working with Jon Dwoskin has been the best experience this company has had!  Jon put together two programs that were geared completely to the issues and challenges that our sales and management staff deal with on a daily basis. He took the time to thoroughly research us and the needs we had and put together very thought provoking and interactive seminars.  The comments afterwards from ALL the participants were extremely positive and one in particular said, "I have been to several seminars but never to one that related so much to my issues and that I could actually walk away with techniques I could use immediately!
The Dwoskin Experience is a thought provoking concise program to challenge and effectively improve your sales. So many rudimentary ideas come to fruition with focus and consistency learned from Jon.
Thank you Jon Wengrow Dwoskin, your advice and guidance has had an amazing impact on our business. You always seem to know which way we should steer the ship!
"Within 45 minutes of talking we came up with many ideas and concepts to move my business forward."
Peter, CEO
Jon recommended an Offsite Day to help grow our company and mentioned that it was analogous to a half-day boot camp.  Jon is very dynamic, driven, and leads with transparency.  He takes you all the way to the end and does not leave any wiggle room.   We had to look hard at what we individually were doing right and not doing right within the company.  He was able to turn every negative into a working positive.  Before our eyes, our goals were creatively interwoven into making a tighter working machine with higher realistic goals.  Every business needs a high-energy Jon Dwoskin.
Jon provided fresh energy and perspective into client engagement and business development that produced quick results through the development of a concise strategy.  Thanks, Jon, for your assistance in continuing to grow our business.
Jon quickly broke down our operations and identified target areas for growth and development. Within a few sessions Jon helped structure a clear and concise business plan unique to our niche market segment that complimented our ambitious sales goals.
As new business owners my partner and I found ourselves working long hours with minimal results.  Jonathan has helped us focus our efforts and currently we are working fewer hours and we see our sales growing faster than our projections.  We could not recommend Jonathan and his services any higher.
I couldn't have grown so quickly without your help and support.
I've had the good fortune of being coached by several outstanding people in my 50+ year career, but Jon is in first place on my list.
Jon has been a terrific business mentor to newer entrepreneur participants in Hebrew Free Loan's Marvin I. Danto Small Business Loan Program. They love working with Jon and have greatly appreciated his diligent, hands-on guidance to help them grow, innovate and be successful on all fronts.
Jon has been an instrumental and influential piece of my business. He has helped me grow my business exponentially by advising on strategic goal setting, planning and execution. Jon sees the whole picture and will work hard to complete every assignment.
Jon was born a leader and entrepreneur. He has the experience and track record to guide any motivated business person to new heights. Jon's success in the business world has provided him with the tools necessary to advise others.
You are more of a rock star than a coach!
Having known Jon for several years I took advantage of his expertise and ability to provide me challenge me to clarify my goals and needs. He challenged me to think differently and approach my circumstances from a new perspective.  He's been a real benefit to my business and personal growth.  Thanks, Jon!
Best of luck to you with your new venture. It was said by George Marcus when you took over the Detroit office that nobody had ever taken over a successful office and not had it go backward. That can no longer be said.
Your leadership, commitment, and passion as Regional Manager of the Detroit office has moved an already successful operation to greater heights.
You will be missed. Thank you for everything. Your contributions have been greatly appreciated.
Jon has the uncanny ability to see through all the noise you experience in your professional life and force you to focus on the critical elements. He's also a wiz at identifying new and creative ways to differentiate yourself in a highly commoditized industry; a very smart, very creative guy. Highly recommended.
Jon has been my business coach for nearly four years. When I started working with him, I was transitioning to a new career. His guidance and advice have been critical to my success in my new endeavor. His insight and the tools he has developed are invaluable. Plus, the enthusiasm and energy he shares are helping me attain levels of achievement I never thought possible.
Jon is an intuitive engineer of best business practices. He understands how to recalibrate your perspective and gets you to think outside of the box. As long as I have known Jon, he has always had the instinctual vigor for helping others break the mold and find room for growth, no matter what success level you are at. I am a proponent of enterprising my business and creating continuity when success demands it. That is why I utilize The Jon Dwoskin Experience. Jon is like an interim COO to my practice who brings a bold way of thinking to the table. He is helping to systematically synergize my company infrastructure and productivity. I recommend his services.
As I am implementing changes and pushing our teams out of their comfort zones, your insights and advice have been invaluable. I appreciate that you've raised the bar on expectations, which has positioned me for success.
Jonathan is an exceptional executive who proactively offers sharp insights to support projects and initiatives in alignment with broader company goals. His solutions oriented perspective and positive outlook are always welcome, and his knowledge of the sales cycle is outstanding.
I am honored to write this recommendation for the coaching services Jonathan Dwoskin is offering.
I have known Jonathan for several years both professionally and privately and the one thing I have admired most about this man is his transparency. No matter under what circumstances you speak with Jonathan, you can be assured you are talking with someone who demonstrates true authenticity.
I wanted to take the time to let you know that it was a pleasure meeting you last week at the sales symposium. Your message was phenomenal and it is safe to say that it truly helped me improve not only as a professional, but as an individual as well. I'm also glad we were able to share a workout session with David. Having played football at the high school and collegiate level, I enjoy and embrace working out with different individuals, and it was amazing that I was able to connect with you in something that I am very passionate about, aside from business.
Thank you for the information you shared with us at the symposium, and again, it was a pleasure to have the opportunity to have connected with you the way we did. You are a true inspiration and just know that I will continue to grow and prosper, regardless of what curveballs life blesses me with.
Thank you again so very much for your outstanding presentation on emotional intelligence at our 8/24 JPro MI event. You are a star and you present with a clear, articulate and caring demeanor that is very effective with audiences. I've now seen it several times and I give you a big THUMBS-UP! You killed it and I hope there will be some follow-up gigs for you. Thank you again so very much for your outstanding presentation on emotional intelligence at our 8/24 JPro MI event. You are a star and you present with a clear, articulate and caring demeanor that is very effective with audiences. I've now seen it several times and I give you a big THUMBS-UP! You killed it and I hope there will be some follow-up gigs for you. Thanks again, Jon!
Thank you for the presentation this afternoon. You gave everyone there great tools and strategies to work on their communication and leadership.  I've received "thank you" messages from many managers for inviting you to speak to our team.
Thanks for the training yesterday! I really enjoyed it. Looking forward to stopping and starting some things!
Working with you has given me hope!
Andrew, Director
We've had Jon Wengrow Dwoskin come into Colliers a few times to give us some great mind opening philosophies that have really given me a new mindset how I look at things.
Brian, 1st Vice President
Jon, what can I say!? Thank you doesn't even cut it… Appreciate your vision, belief and inspiration.
Will, Wealth Advisor
I was trained as a broker for two years by Jon and I can truthfully say that he knows more about sales than any other person I know.
Allan – Real Estate Attorney and Former Broker
Jon, You were great! Everyone really got a lot out of your sessions. You were mentioned many times in our wrap today. Thanks!
Joel, CEO
Jon Dwoskin and I worked alongside of each other for approximately 10 years. He is the most ethical, driven and hard working person I have ever had the pleasure to work with. Jon has a unique ability of seeing the big picture without losing site of the daily work involved to achieve his goals. I learned a great deal from Jon and recommend him to anyone looking to grow their business.
Jon is a visionary leader with a positive attitude.
Jon has been operating in the capacity I would characterize best as the Chief Operating Officer of my small and growing company.
His input and energy has been an excellent catalyst for a number of areas including sales, marketing, overall goal setting, STRATEGY FOR GROWING OUR BUSINESS in the short term and long term, etc. I believe that the information from someone who not only knows my business, but can provide a cross reference from other similar businesses gives us the additional insight that we need. I would recommend JD to anyone.
"Jon's insight and coaching has helped our business get back on track."
Nathan, CEO
Jon is a business whisperer. He seemed to know exactly what was going on with my company the minute I began working with him.
Not only does Jon have a wealth of business knowledge, but every visit is inspirational. He forces us to think critically about our business and ourselves which is why we have seen so much success and growth with our business.
Within my first 2 hour meeting with Jon, I understood how to restructure parts of my company, website and mindset as well as figured out an immediate way to increase my income $100,000.
We were stuck, and self-defeating. Jon showed us a path to find success and start building a plan. He is pushing us to accomplish more than ever.
Working with Jon doesn't feel like work! As always, a million thanks!
Jon, Today's full day offsite was a great opportunity to narrow our focus and get our entire Business family on the same page.  Your guidance has meant so much to us and we know that you have been a big part of our success.  Thank you for everything!
I began utilizing the services of The Jon Dwoskin Experience about a year ago, as a direct result of our prior business relationship that turned in to a wonderful friendship.  I was drawn to Jon by his charisma, humor and just the way he dealt with situations and people in general.  He was always able to provide clarity to me when I may not see the correct path.  In business, you don't use your friends because they are your friends, you do it because they are amazing at what they do!  Jon is irreplaceable and I would not only recommend, but insist, that anyone looking to grow and improve, call him NOW.
Excited to announce, The Motor City Casino as a new client for my firm. Look for new and updated art in the hotel and casino over the next year. I couldn't have done this without the trust and guidance of The Jon Dwoskin Experience. If you're interested in growing your business reach out to him.
"Working with Jon has allowed me to think of my law firm in a creative and expansive manner."
JR, President of Law Firm
Jon,  I call you "The Idea-Man"!! I couldn't believe how quickly you were able come up with low-cost, manageable solutions to help me build my business.  I had met with a few marketing people before I met with you but… they just didn't feel right.  I didn't walk away with the same confidence and energy I felt when I walked away from our meeting.  Thanks for everything!
Jon is the ultimate idea guy. He restructured my entire company in our first session and set a timeline for me to grow my business in the most effective way that I could not see for myself because I was too close to my own business. I simply could not see the forest through the trees. Jon took the time to listen to the fundamentals of my industry and company and within moments had a perspective and vision for my company that blew me away. I am now on a course of explosive growth and plugged back into the passion of my company. Thanks Jon, I'm looking forward to working with you as we execute and build my business. I couldn't do it without you!
The business planning meeting for our sales team was invaluable!  Truly appreciated.
Jon, your ability to instantly pinpoint several key strategies that were needed to  help our business grow was most impressive and leaving our first meeting with a set of "tools" that we could immediately implement was very satisfying. I always tell my children, having passion for what you do is so important, you clearly have it and it is inspiring!
Your work around my office has been a tremendous benefit, not just for me but the development of the firm.  I look forward to our continued efforts together.
I appreciate you pushing me to getting to greatness!!! I feel clearer after our talk as to my focus!!! Thanks man!!! I am really enjoying you as my coach and appreciate you being so honest and straightforward. Never ever worry about offending me…I need this coaching….
Jon has been a game changer for our business.  Not only has he identified how we can be better structured, but he has identified and help implement how we can grow faster and more efficiently.  The company culture, direction and motivation is already much improved with Jon's help.
Just want to thank you for your expert advice on how to double my business. Will keep you posted to our team's progress.
Thank you to Jon for giving me a different point of view.  Jon's advice helped me empower my team, and ultimately, helped grow our organization. My only regret is not coming to Jon earlier!
Jon's a brilliant business person with a truly killer instinct on execution. Has a great intuition with people and a knack for moving the ball forward as fast as it can possibly move. Anyone would be better off working with Jon.
I really appreciate you and all you've done for me over the years. Speaking with you today lifted my spirits and gave me renewed strength.
THINK BIG!™
Working with Jon has been amazing. In just a few months he helped us create a new on-line web based venture that will transition our 50 year-old business into a modern entrepreneurship. He was instrumental in conceptualizing the new brand, generously imparting his expertise and winning strategies to create an income producing online business. His master online business skills combined with his business expertise will help anyone go from obscurity to breakthrough success in social media, video, and viral marketing. We now have a new online presence that compliments our brick and mortar business and puts us at the center of a whole new 21st century audience. If you're willing to take the ride of your life, and you crave to be relevant to today's generation and are ready to grow your business online, get on board The Jon Dwoskin Experience…and have fun!!!
Thanks Jon, I had a blast. I have a feeling that'll prove to be a life changing meeting.
I am excited to implement some changes into my schedule and routine, thank you for sharing your expertise. I feel tremendously blessed to have met you and learn some great tools.
"Within my first meeting with Jon, I understood how to restructure parts of my company, website and mindset as well as figured out an immediate way to increase my income $100,000."
Dan, CEO
I've known Jon for many years and recently had the opportunity to attend his business plan builder workshop. The workshop was outstanding – it breaks down each element of success to its most basic level, gives you the 'why' and the 'how', and inspires you to take action. Ultimately, it is up to the individual to implement the plan, but the data truly forces one to reconsider their modus operandi. Jon is a serial achiever – I'm convinced he's either cloned himself or doesn't sleep, because he is constantly working and producing. He not only has his finger on the pulse of investment real estate, he has the sales experience, managerial skills, and seemingly insatiable personal-development-inspired drive to mold powerhouse brokers. His website is also an excellent source of real estate links and information. Thank you Jon and well done!
Jon was instrumental in helping me find the vision and message I needed for my office. I oversee a group of independent sales people and his involvement was essential in setting the vision and in executing the message that has now given my office the boost in energy and production that it so desperately needed. I couldn't have done this without him and I am grateful for his passion and critical thinking that helped my office, and, will help any organization.
Having Jon is a huge asset in the growth of my business. Having someone to problem solve with in the middle of the week when I am in the middle of a situation is priceless. Whenever I am in a position of: "How am I going to solve this issue…?" I call Jon.  He is not only there for me and my team during our 1:1 time, but anytime I need him to advance my business and get the angst out of my head so I can focus on growing my business, not getting stuck in my business.
I wanted to share with you that I met a Pastor on the plane today.  He and I talked at length about leadership and managing.  So happens he knows and is friends with John Maxwell.  He was a fighter pilot and being 68 years old had great stories to share.  The conversation reminded me of you and how you helped refocus my thinking.  I thank you for your time you spent with me.
I really loved your presentation!  Looking forward to working with you, you're a great motivator!
Your presentation was amazing and the content enlightening. I was reminded of so many things, both old and new, for which I appreciate your guidance and experience.
I enjoyed your presentation so much I really am taking it all in and trying to implement some of the things you shared. I will definitely reach out to you if I have any questions.
The single best presentation I have ever seen. Just felt you should know that it impacted me deeply. I hope to see you soon and I won't hesitate to reach out with anything I may have questions with. Hope our paths cross again.
Thank you for your time and presentation. I spoke with several producers who got a ton of tips from you…..as did I. Always great to be reminded of the activities we all have to be mindful of to accomplish all those lofty goals and execute on the big ideas.
Jon, the kickoff session was awesome! We unpacked a ton of things and put some others in perspective. I'm truly looking forward to our upcoming sessions.
I gained a lot of valuable information that I look forward to implementing to help grow my business.
I just wanted to reach out and follow-up by saying thank you for taking the time to meet with all of us yesterday. I definitely took a lot away from the seminar, and appreciate you helping me with some of my direct situations. Thank you again for taking the time yesterday to break some things down. Sometimes I need to hear things from an outside point of view, and I think I was able to shift perspectives after hearing you speak.
During my 120 days on your program, I actually doubled my pipeline of real estate listings, completed one new deal, developed web infrastructure and added many new clients. I'm sure even more success from the program will be apparent with time. Thanks for all the help. I'm sure I will be making another investment in my business growth sometime very soon.
Hiring you to help me with my business was one of the best moves I could have made. I valued your thoughtful input, analysis and attention to detail for a long time now, but was only recently reminded when your skill and ideas came on board to help my company.
Jon worked extensively with my company for over 6 months, and continues readily making himself available to me for quick questions or brainstorming.
If you require assistance in growing a business, bring Jon on board for a fresh perspective and enhanced problem solving solutions. I was extremely impressed with his expertise in customer service, client retention, support in creating our website, just to name a few. I am happy to report, we not only reached the goal Jon had set for the year, we are well on our way to doubling that goal this year.
It was a pleasure to work with Jon. He managed in an extremely short time to figure out new business goals, and helped our company reach our full potential. The confidence learned by my team from Jon is literally invaluable. We can't thank you enough.
We have been fortunate to have seen our company grow quickly over the last 5 years. However, along with that growth has come the realization that we are all very good at what we do as a company, but not necessarily good at knowing how to manage our time and resources efficiently. In the midst of success, we had all become "do-everything" people within the company, without a clear focus on segregation of duties, or focusing our individuals on their strengths.
We hired Jon not really knowing what he could do for us, but intrigued with his ability to be "above the fray", and take an outsider's view of what we were doing right, and what we could improve upon. From the first meeting, we could tell that we were speaking to "one of us". Jon is a great listener, quick to know exactly the growing pains that we were facing, and just as quick to offer usable information that we could implement immediately to see meaningful results. The simple fact is that we were all so mired in the day-to-day "weeds" of the business, that it clouded our ability to see how small changes could be implemented that could have huge positive effects on people's productivity, and happiness.
As the wife of a business owner looking in, it's not so easy to get a clear picture of how things are going.  After an intense seven hour session with Jon, we were able to identify goals on a timeline for sales and growth, what needs are being met or missed between departments, and intentional measures to implement more work/life balance for both owners and their families.  Jon was able to facilitate difficult discussions that encouraged growth and discovery in a positive light.  By the end of the day I felt more confident in the time and energy my husband has put into this business. I also found that my concerns about his presence at home and with our kids and his own health had been addressed.   The experience of an outside source identifying where there is room for improvement has way more impact than if it came from a nagging family member.  The Jon Dwoskin Experience was well worth the time and resources invested, as our business begins to realize success.  Thank you Jon for helping map a plan that meets everyone's needs!
Thank you so much!!
A few months ago, a colleague of mine reached out to me and asked if I could help find some office space for one of his good friends. That's when I was first introduced to Jon Dwoskin. At that time I knew nothing about Jon, other than he was a prospective tenant that I was trying to accommodate. Interestingly enough, within the first few minutes of showing him some potential office locations, I knew that we had some type of connection. It was a situation where both of our personalities clicked within the first few minutes of speaking, and by the end of the showing we were well on to other topics besides real estate. Jon had given me a basic history on his career background, and I told him that I was just starting a new role in my professional career myself. I asked him if he would be willing to meet for a coffee just to continue the conversation, and it was one of the best life decisions I had ever made.
While chatting at Starbucks, I learned about Jon's mentoring business and thought to myself that this could be a perfect fit for me. Jon was easy to talk to when it came to sharing my past and current experiences, and at first he mostly just listened. It was when he first started giving me little pieces of advice, such as pointers on basic appearance and ways to phrase tasks to employees etc, that I could tell he had an immense wealth of knowledge on how to run a company and grow a successful business. I also felt comfortable that he knew exactly where I was in my career, and that he had the tools to help guide me to become a better leader. After our initial conversation, I decided to try his mentoring business out and see if there was a value add.
I now continue to work with Jon for several hours a month, and the insight and guidance I have received from him have been beyond valuable. Interestingly enough, many of the organizational and talent management tools he has shared with me are not complicated. The amazing part is that they are easy to implement and EXTREMELY effective! Within the first month, I was hooked and it is amazing how much has changed in such a short amount of time. The results that his guidance has had on how the outside world views me as a professional, the increase in productivity of my employees, and most importantly, the way I view and feel about myself, has given me a new high on life.
It is also very important to note that I do not give all of the credit to Jon. I have a few years of profound career experience myself, and am a very motivated individual that has gotten me to a great spot before even meeting Jon. The distinguishing factor is Jon's high level of insight from both a detailed and global perspective, that enables him to hone in on my strong skill sets, identify the areas for improvement, and outline a plan and provide personalized techniques to make me more effective everyday. He also has and continues to hold me highly accountable for everything I say I am going to do. While I am very proud of my past accomplishments, now that I have Jon as a mentor I feel like I have been upgraded to a new and improved version of myself. Before I was version 1.0, now I am version 2.0. The most exciting part is that this is only the beginning, and I look forward to getting to version 10.0.
Jon is truly an incredible individual, and I would not invest my time, which for me is extremely tight these days, if I knew this was a waste. He is the real deal and I guarantee that you will quickly notice changes after seeing things from his perspective. I have never been more excited to use my newly gained tools and confidence and implement into my everyday work and personal life. Jon, thank you for all of your guidance and support, and I look forward to developing a long lasting relationship with you throughout my career.
Jon, I wanted to say a very big "thank you" for your energy, excitement, kindness and nurturing of all of us at the company. Our company is in a better place when you are with us. We need more Jon Dwoskin in the World.
Cindy, CSA