Jon's Results-Driven
Business, Sales & Productivity Coaching Services
Ready to get UNSTUCK and grow your business big. Very Big?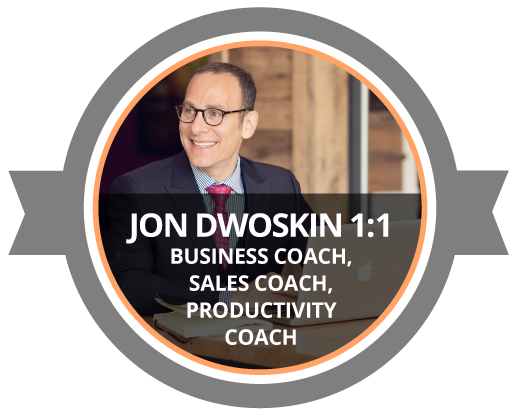 1:1 Custom Business, Sales & Productivity Coaching Services
Customized one-on-one coaching to keep you unstuck.
I will uncover hidden elements of your business that can be monetized & expanded, then develop steps you can take to reach your goals & grow your business consistently.
First, we will do a 3-5 hour deep dive so I can learn everything about you, your history and where you want to head.
Then, we'll follow up with my ongoing Sprint Coaching, to keep you on track, accountable and building consistent business growth.
Every session includes my detailed notes and recording upon request.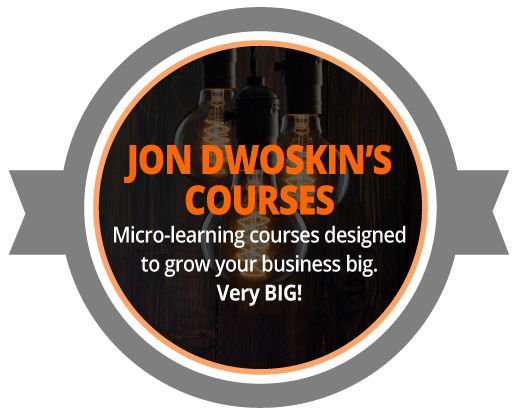 Jon Dwoskin's
Micro-Learning Courses
Grow Your Business FASTER with Jon Dwoskin's Courses
My micro-learning courses are designed to give you the edge you need to succeed in today's competitive business landscape so you can grow your business big.
Very BIG!
8 Week Business Course Bundle
Sales Coaching Experience
How to Launch a Podcast
STUCK IN YOUR BUSINESS?
I know how frustrating that can be.
Getting UNSTUCK is 3 Steps Away...

Call Me:
Because I can help you
get – and stay --
UNSTUCK:
248.535.7796

Develop a Plan:
Work with me to uncover the roadblocks to your success & develop a step-by-step action plan to overcome them.

Achieve Your Goals:
Stay UNSTUCK with my advice, support & strategies so you can achieve your goals & grow your
business BIG!
How to Get the Most Out of
Your 1:1 Experience
Will you get better results working out twice a month?
Or three times a week for a month?
Just like with exercise, consistency is
key to growing your business.
How can you maximize your results?
By making a long-term commitment to 1:1 sessions that provide constant communication, honest feedback and simple techniques for taking your business to the next level.
My approach works because
I partner with you to create a customized plan based on proven strategies to maximize your business growth consistently.
How can you take the first step to getting UNSTUCK and growing your business?
Contact me today:
248.535.7796 jon@jondwoskin.com
Additional Business Coaching, Sales Coaching & Executive Advisory Programs
Reflect, recoup, re-energize, refocus, reset and reTHINK!
I work with your leadership team and/or entire office to grow your company, refresh your culture and streamline all communication.
Grow your business with accountability!
Work with me on the KEY goals and activities you should focus on EVERY DAY to turn your business around quickly with daily, consistent execution.
Intense ongoing training
Sales: High-level sales training to deliver big results.
Management: Leadership skills, practical tools and guidance.
Power coaching to help you get to the next level.
The perfect solution to get unstuck and take your ideas the next level to grow your business, people and culture.
Grow your business through feedback.
Get unstuck by learning where you stand with your business and people so you can move forward with purpose to grow your business BIG!
Get unstuck. Take action. Grow your pipeline.
This innovative system of proven sales tools includes tips, success secrets, and more, to put — and keep — you on the right track so you can immediately grow your pipeline, revenue, and business.
Clients Work With me Because:
Jon, We just got the call from the President of our National company letting us know that we made Gold Circle and that we were the #1 growth market in the entire franchise/company for 2017!
Bryan and Jared CEO/COO
We grew by over $1.8M and we couldn't have done it without your guidance. Thank you for sticking with us, helping us work through our challenges, and always keeping us on course. Thank you for being our secret weapon!
Bryan and Jared CEO/COO
Personally, my work with you has helped me to better research and prepare for my sales efforts. Just a few "little" (not so little!) coaching points you shared helped me to secure 4 meetings with Fortune 500 companies within a few weeks of our coaching session!.
Rob, President of a Forbes Top 25 Company
Jon is like having your own/custom COO to always guide you in the right direction, with the right cutting edge strategy, while always keeping you thinking about what's next.
Scott, President
I've been working with Jon for just over two years. In that time, Jon has been instrumental in guiding me to build a more effective strategy for my business, which has ultimately resulted in a 25.7x increase in my business.
One of his areas that have been most impactful is helping me acknowledge that everybody has the same 24 hours in a day, but why some are able to accomplish so much more than others in that same time period—it's all about how you use your time, being very disciplined with it, and small practices that compound over time to become habits.
Mackinley, Director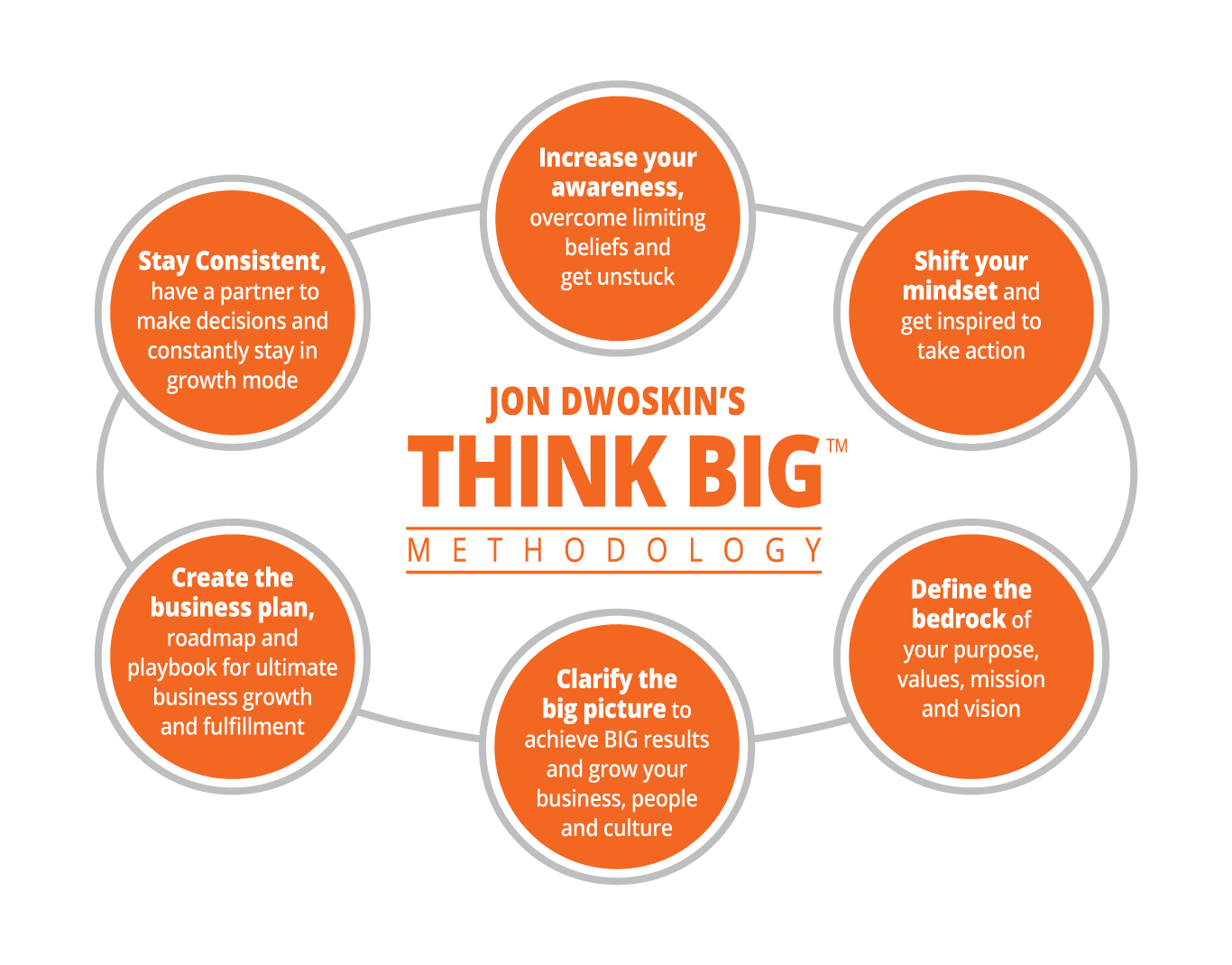 All of my training includes my THINK BIG Methodology so you can achieve the results you need to grow your business, yourself and your people!
Successful?
Stuck in Business?
Ready to get UNSTUCK?
Call Jon today at 248.535.7796
The value of business coaching from Google CEO Eric Schmidt.
Want to get great at something? Get a coach – Atul Gawande
Invest in yourself – Warren Buffet
Jon Dwoskin Shares Stanford's 2013 Executive Coaching Survey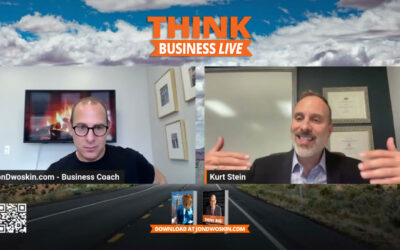 Kurt Stein has started several businesses, and grown each of them. From his long career in technology (25 years), he has seen the ups and downs of economies and companies, and faced those same...