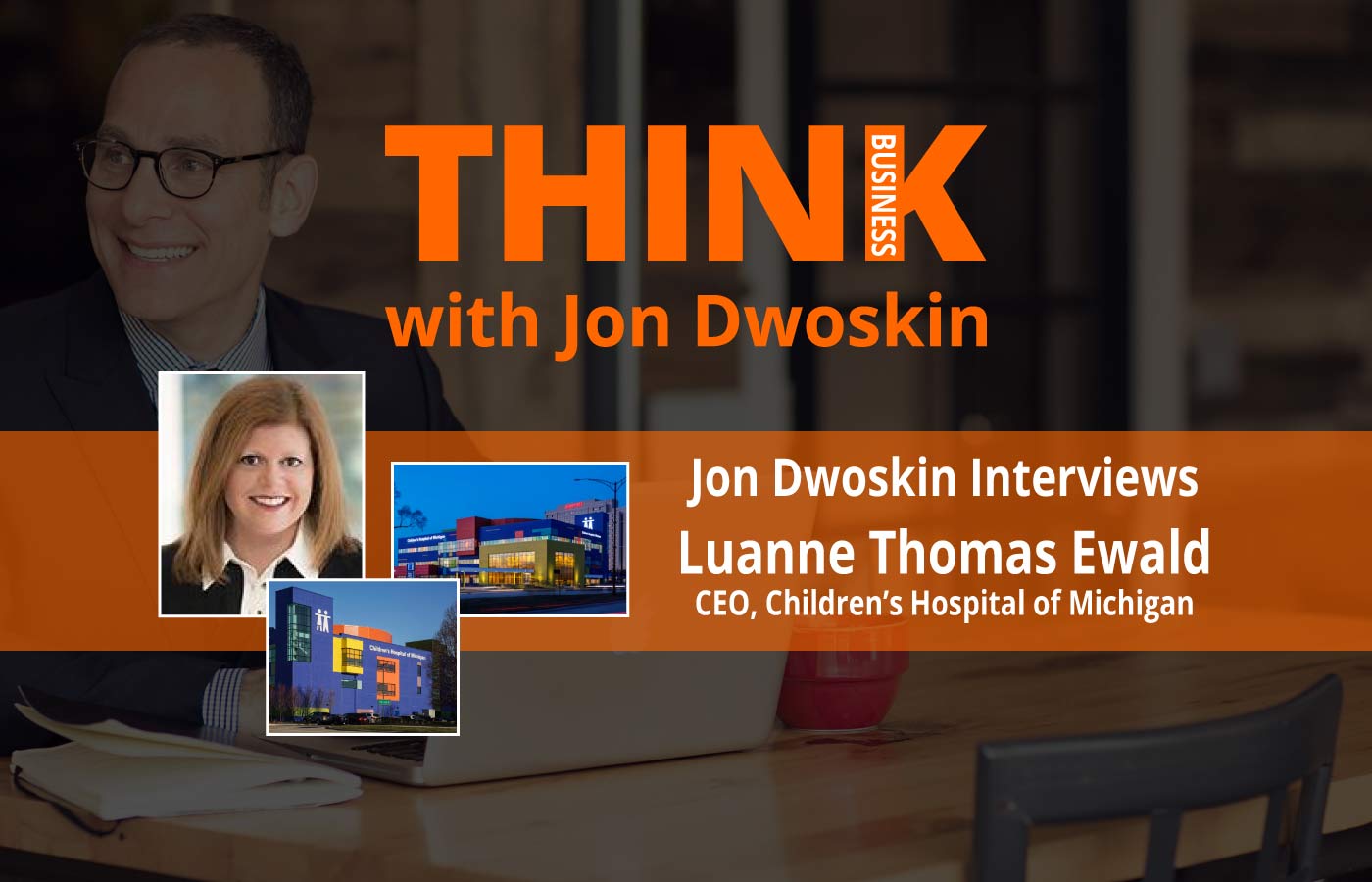 <iframe style="border: none" src="//html5-player.libsyn.com/embed/episode/id/6198636/height/90/theme/custom/autoplay/no/autonext/no/thumbnail/yes/preload/no/no_addthis/no/direction/backward/render-playlist/no/custom-color/87A93A/" height="90" width="100%" scrolling="no" allowfullscreen webkitallowfullscreen mozallowfullscreen oallowfullscreen msallowfullscreen></iframe>
Ms. Thomas Ewald is a graduate of Mercy High School, Farmington Hills, Michigan. She holds a Bachelor of Science in Business Administration from Marquette University, Milwaukee, Wisconsin and a Masters in Hospital and Health Administration from Xavier University, Cincinnati, Ohio. She is a graduate of Leadership Detroit and Tenet Leadership Academy.
Ms. Thomas Ewald's entire career has been spent at the Detroit Medical Center (DMC) which consists of eight hospitals and more than 100 ambulatory sites. She is currently the Chief Executive Officer at one of the best children's hospitals in America, Children's Hospital of Michigan (CHM). Prior to this role, she served in two roles at the DMC. She was Vice President of Business Development for the DMC and also served as Vice President of Business Development at CHM. She had responsibility for Ambulatory Network Development, Pediatric Clinically Integrated Network Development, Program and Facility Planning, DMC Friends and Family Program, Physician Link Line, One Call Transfer Center, Business Planning, Physician Recruitment, Physician Call Center Management, Physician CME Development, Physician Relations/Sales Team. Since 2007, she has been instrumental in opening ten (10) Children's Hospital of Michigan Specialty Centers in the community, ranging from 3,000 to 100,000 sq. ft. These outpatient facilities have resulted in major growth and increased physician and patient satisfaction. Her latest project, Children's Hospital of Michigan – Troy, included the State's first pediatric free standing Emergency Department. The 63,000 sq. ft. location is home to a pediatric surgery center, sleep lab, and various subspecialty clinics. She is also responsible for the development of the Physician Concierge Program and the Physician Link Line. Both programs were developed to provide referring physicians with one phone number for all CHM requests: referrals, transfer, direct admit, patient status, patient appointments, and physician to physician consults. Prior to her current positions, Ms. Thomas Ewald served as Corporate Vice President, Business Development and Marketing for the DMC. She was responsible for business planning, market research, communication services, physician referral service and nurse triage, in addition to various marketing and physician initiatives. Prior to this position, Ms. Thomas Ewald served as Chief of Staff to the DMC President and Chief Executive Officer. In this role, Ms. Thomas Ewald worked directly with the Board of Trustees and Executive Management on operational and strategic initiatives. Ms. Thomas Ewald also served as the Administrative Director at the DMC's Hutzel Hospital for the Women's Health Initiative. In this role, she was responsible for overall business operations, marketing initiatives, and program development for the division. Under her leadership, patient volumes increased by 300% due to process improvement efforts and collaborations with internal departments and external community organizations. Prior to her experience in Women's Health, Ms. Thomas Ewald served as a Senior Planning and Marketing Analyst within the DMC's Corporate Offices and as an Administrative Fellow at CHM.
Ms. Thomas Ewald is a Fellow in the American College of Healthcare Executives (ACHE) and serves on ACHE's Regents Advisory Council. She is the Past-President of the Midwest Chapter of the American College of Healthcare Executives (MCACHE). She has served as the Chair of the MCACHE Sponsorship Committee and Audit Committee. She has also served on the Board of Directors for the following organizations: Children's Hospital of Michigan Foundation, Sparky Anderson's CATCH Charity for Children, Junior Achievement of Southeast Michigan, The Girl Scouts of Southeast Michigan, Leadership Detroit, Dr. Benjamin Carson High School of Science and Medicine, Alumnae Board of Mercy High School and Big Brothers Big Sisters of Southeast Michigan. She has served as co-Chairman of the Leadership Detroit Selection Committee. In 2017, Governor Snyder appointed her to the Early Childhood Investment Executive Committee for the State of Michigan. She also serves as a member of the following organizations: AHA's Society for Healthcare Strategy and Market Development and Inforum. She is a member of Inforum's HealthCareNext Steering Committee. Ms. Thomas Ewald has also served as a preceptor for graduate students in Healthcare Administration from the University of Michigan, Xavier University, St. Louis University, Boston College, Trinity University and University of Detroit Mercy.
In 2007, she was named as one of Crain's Detroit Business 40 Under Forty – which identifies individuals in the business and nonprofit community who have achieved solid business success before the age of 40. In 2008, she was honored by the Detroit Regional Chamber with a Horizon Award for business achievement before the age of 40. In 2009, she was honored with the Vanguard Award by the Detroit Young Professionals which recognized outstanding Detroiters who have distinguished themselves through professional leadership and service to the community. In 2011, she was awarded the Mercy High School Distinguished Alumna Award for her dedication to women's leadership and community service. In 2012, she was awarded the Early Career Healthcare Executive Regent's Award from the American College of Healthcare Executives. Most recently in April of 2016, she was awarded The 2016 Most Valuable Professional by Corp!Magazine.
*E – explicit language may be used in this podcast.