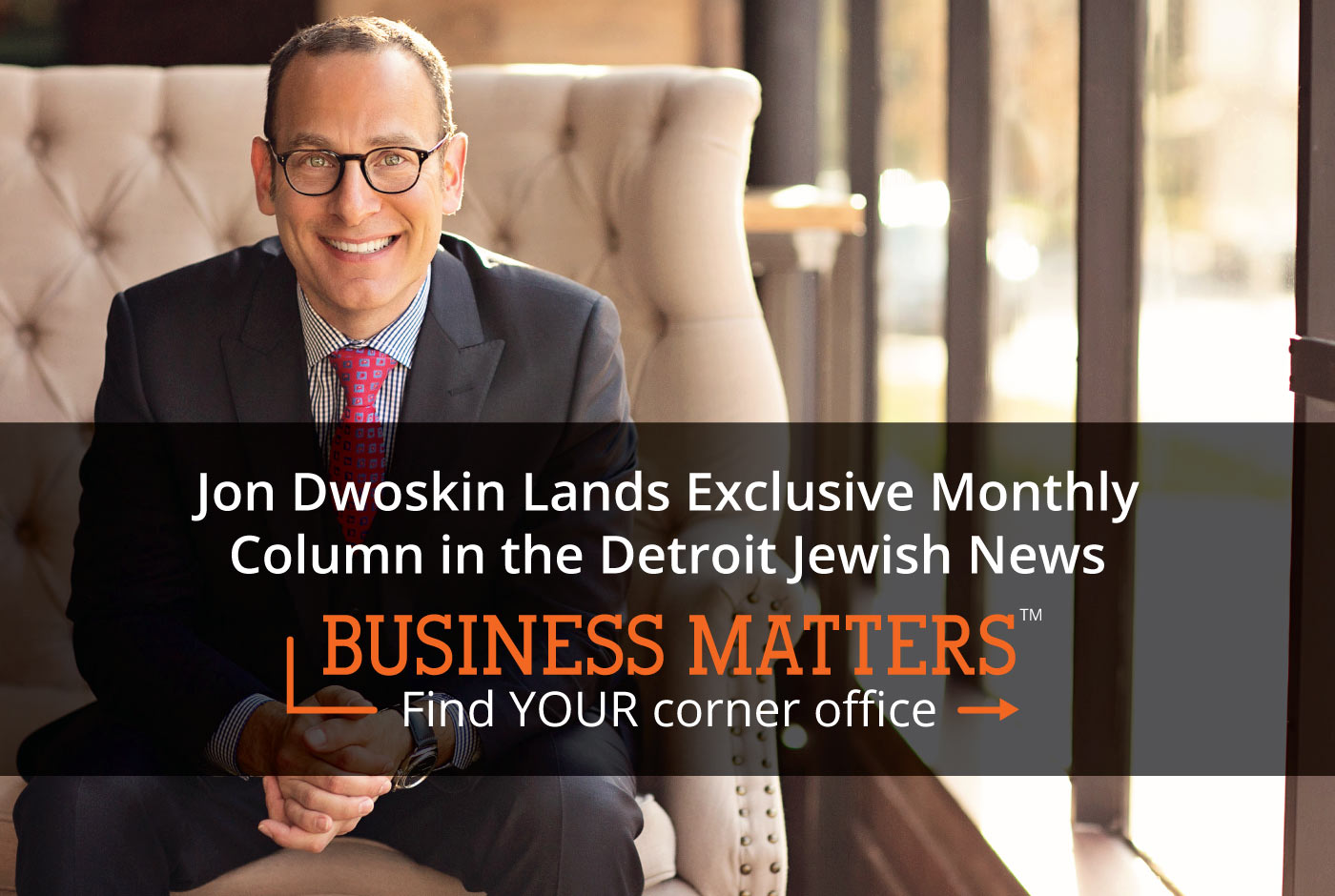 Every second week of the month, the JN plans to publish Business Matters: Find Your Corner Office
HUNTINGTON WOODS, Mich., June 27, 2018 – Jon Dwoskin, author, executive advisor, business coach, podcaster and founder of The Jon Dwoskin Experience, has been selected by the Detroit Jewish News to write a column once a month entitled, Business Matters: Find Your Corner Office.
The column, which will be published on the second week of every month, tackles various timely issues impacting entrepreneurs, executives, sales people and other business leaders seeking to excel and grow their businesses. Like his website – www.jondwoskin.com  – the Jewish News column will provide readers with resources, strategies, best practices and communication skills to improve their careers and their personal lives.
Although he will normally publish one column per month, Dwoskin debuted in the Jewish News with two columns in June: "Nice to Meet You," and "Quiet Your Inner Critic to Take Action." Nice to Meet You chronicles his long journey to becoming a business coach and executive advisor, while Quiet Your Inner Critic urges readers to do just that: stop making excuses and start doing!
"The JN is excited to have a business coach of Jon Dwoskin's caliber provide advice and tips to the many entrepreneurs who read our paper. We're sure his monthly column will garner a big following and help our readers achieve their own goals and dreams," says Jackie Headapohl, managing editor of the Detroit Jewish News.
The Detroit Jewish News has a long history of serving the Metro Detroit area's Jewish community. Since 1942, the media outlet has published news and opinion that's engaging, educational, enjoyable and unique. The JN strives to reflect a full range of diverse viewpoints while also advocating positions that strengthen Jewish unity and continuity.