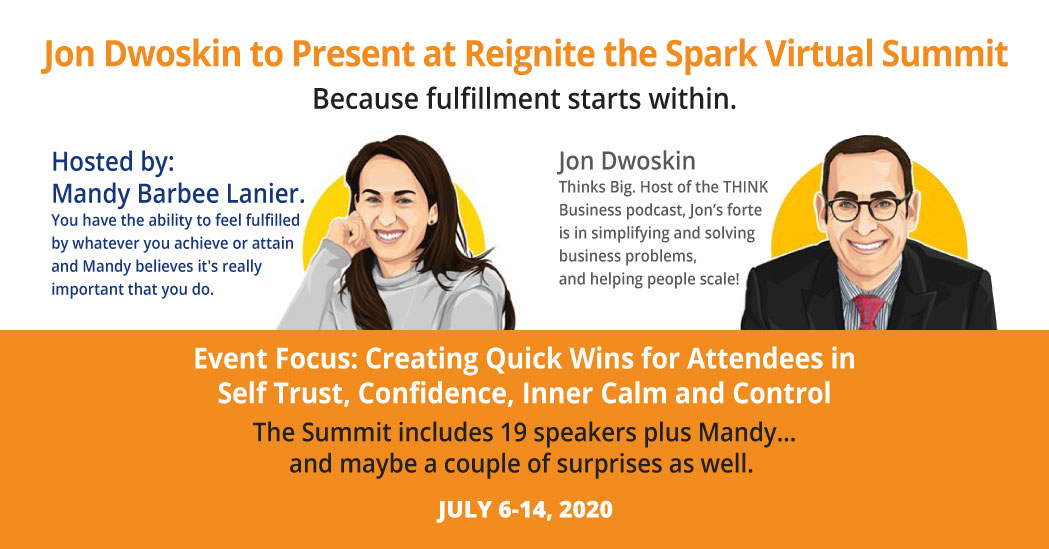 Reignite the Spark Virtual Summit 
Event Focus: Creating Quick Wins for Attendees in Self Trust, Confidence, Inner Calm and Control 
July 6-14, 2020 
Hosted by Mandy Barbee Lanier 
You have the ability to feel fulfilled by whatever you achieve or attain and Mandy believes it's really important that you do.
Details:
You are invited to a 9-day BONFIRE of creative, action-oriented conversation all about the art of fulfillment
REIGNITE THE SPARK: Fulfillment Starts Within is a completely free virtual gathering of 19 experts in all fields – medicine, high performance, and creative/holistic – designed to help attendees to immediately draw MORE
enjoyment from the life they've intentionally built. Not someday, not later, now.
Fulfillment isn't a mystery, it's attainable even when it seems impossible. The thing is, even the most driven, objectively successful people often feel the carrot is always out of reach. That's a huge problem. And if
you've ever thought just how much "others have it worse than I do," and then blamed or faulted yourself for not being happy, but didn't have a good next step to take, this is for you!
You'll get tools to improve your calm sense of certainty, inner control, and innate confidence during the event. Join us!
Register:
https://mypalladiummind.kartra.com/page/ReigniteTheSparkFulfillmentStartsWithin