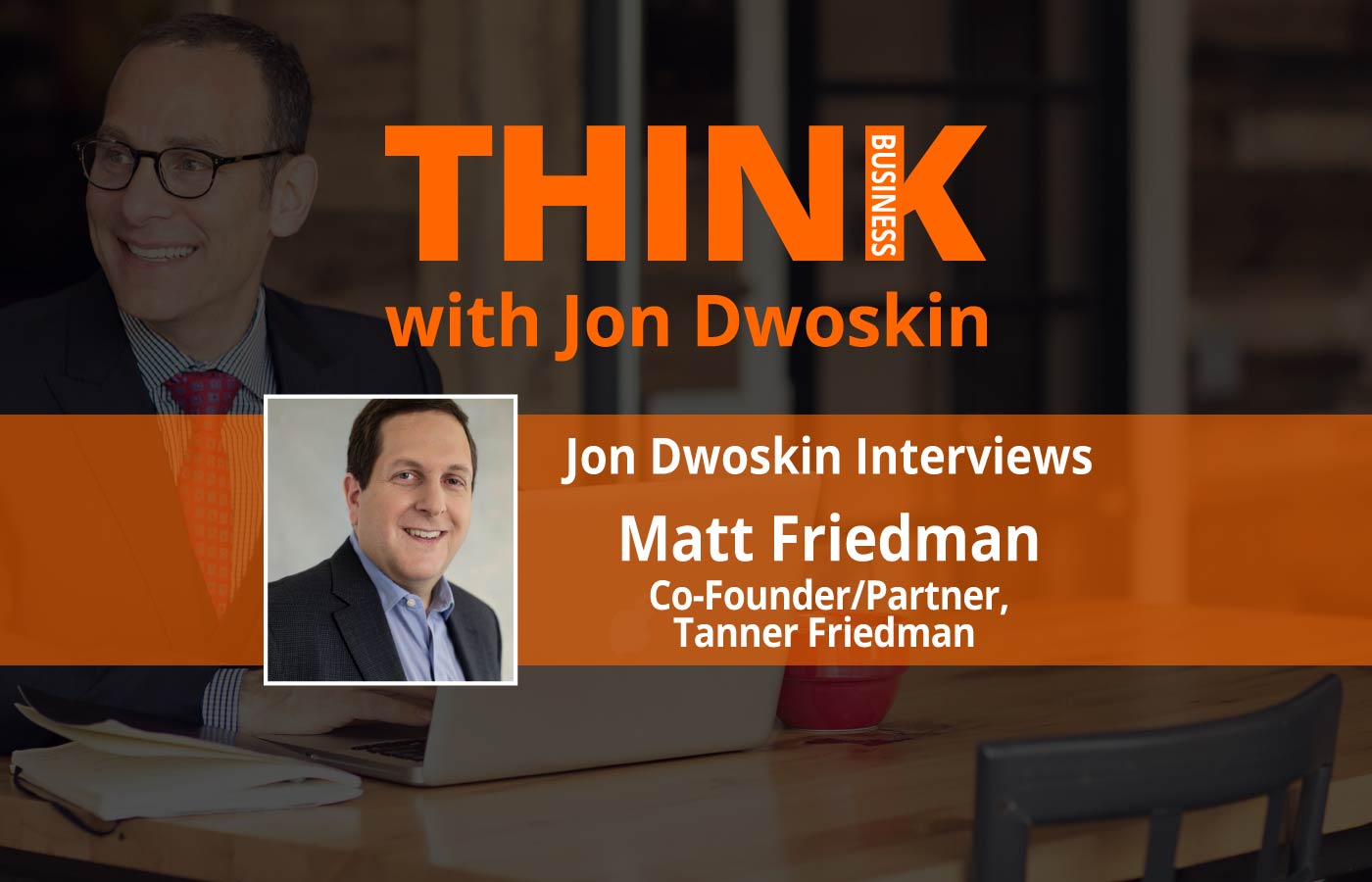 Tanner Friedman Co-Founder Matt Friedman leads teams and works directly with clients to develop and implement traditional and emerging communications strategies that support business objectives. His clients have included an international airline, multiple global pharmaceutical companies and research universities, print and broadcast media companies, top nonprofit organizations, innovative entrepreneurial companies and leading professional service firms. Friedman is a recognized crisis communications strategist, helping to guide organizations of all sizes through periods of "bad news" and times of change.
His specialized experience includes working with virtually all facets of health care communications, handling litigation communications for high-profile legal matters, leading media relations operations for large business and policy events and strategic communications projects for multiple Division I college athletic departments and a "Power Five" athletic conference. Friedman is also an experienced media trainer, combining his news and PR experience to create customized training sessions for clients nationwide to learn how to tell their stories and deliver their messages through interviews with journalists.
He began his PR career at a large Metro Detroit firm in the 1990s, after a track record of success in broadcast journalism. Most recently, he was the lead news producer for Detroit station WDIV-TV (NBC)'s 6 p.m. news broadcast, at the time Michigan's most watched evening news program. He also served as a news producer at WKMG-TV (CBS) in Orlando, Florida and WSB-TV (ABC) in Atlanta, Georgia, where he was the top news writer on the nation's highest-rated 11 p.m. newscast. Friedman began his professional broadcasting career on-the-air and behind-the-scenes covering news and sports at WWJ-AM radio (CBS) in Detroit. He first started at age 11 as a DJ and sports announcer at Metro Detroit community radio station WBFH-FM, where he eventually became the station's operations manager. He now frequently serves as a broadcasting, news and PR analyst for newspapers, magazines, websites, TV and radio stations. Friedman also serves the host of a statewide internet radio program focused on trends, "Communicating Business" in the Michigan Business Network.
Friedman is a graduate of the S.I. Newhouse School of Public Communications at Syracuse University in Syracuse, New York, where he served as News Director at WJPZ-FM, at the time the nation's highest-rated collegiate broadcast outlet. He was inducted into the WJPZ Radio Hall of Fame in 2012.
A leader in the Michigan community, Friedman serves as Chair of the Children's Hospital of Michigan Foundation Board of Trustees and on the Boards of the Legacy Detroit Medical Center, the Michigan Sports Hall of Fame, Yatooma's Foundation for the Kids, Charity Motors and the Detroit Regional Chamber Foundation. He also chairs the Detroit Regional Chamber's PR/Marketing Advisory Council. His previously served as Governance Chair for the Children's Hospital of Michigan. Earlier in his career Friedman received recognition for his leadership as one of Crain's Detroit Business' "40 Under 40" and DBusiness magazine's "30 In Their 30s," for his business and community accomplishments before the age of 40.
He resides with his family in West Bloomfield, Michigan.
Show Notes:

In this episode Jon and Matt discuss:
Matt and his career
The first steps in starting a company
Value-based goals for your business
Strategic communications
Key Takeaways and Actionable Success Principles: 
Figure out what your values and mission are first, then figure everything else out later
The goal in business should be how well you execute on your values and how well you take care of your customers… if you do well, the profits will come
PR is about connecting messages with audiences to lead to a reputation that will support your business objectives
PR is a contact sport, the company needs to dig in with the team to get real results
"The more grounded you are in your values, the more grounded you are in picking your clients, pruning your clients, and picking the people who work for you." – Jon Dwoskin
Connect with Jon Dwoskin:
Twitter: @jdwoskin
Facebook: https://www.facebook.com/jonathan.dwoskin
Instagram: https://www.instagram.com/thejondwoskinexperience/
Website: https://jondwoskin.com/
LinkedIn: https://www.linkedin.com/in/jondwoskin/
Email: jon@jondwoskin.com
Get Jon's Book: The Think Big Movement: Grow your business big. Very Big!
Connect with Matt Friedman:

*E – explicit language may be used in this podcast.