Anthony and Jon Talk about his Jimmy John's stores – 95 Monroe Street, Detroit – May 21st 11am-3pm FREE SANDWICH program for the City of Detroit's First Responders! Darren McCarty and Mikey Eckstein join the conversation.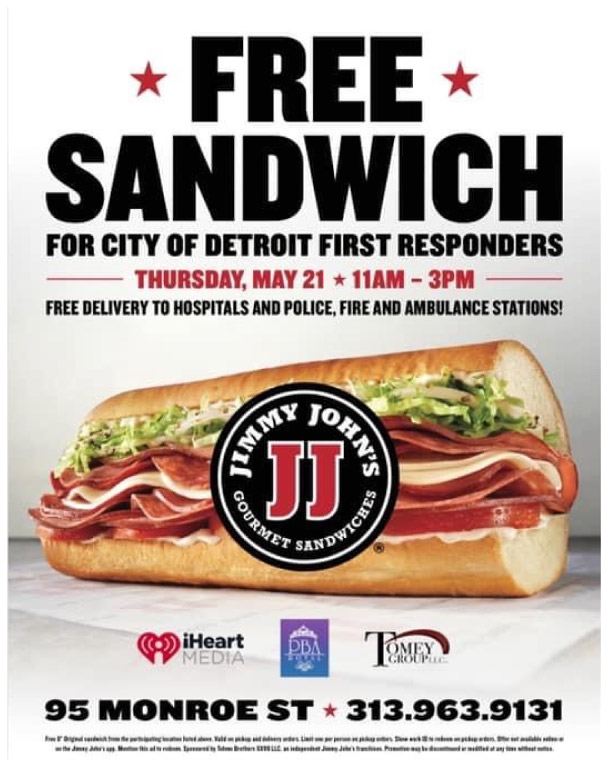 Anthony Tomey played baseball and basketball and was student council president while attending Catholic Central High School. Graduating in 1999, he was drafted by the Cleveland Indians. Anthony graduated from Eastern Michigan University in 2003 with a degree in Marketing/Management and was drafted by the Detroit Tigers.
In the spring of 2003, Anthony Tomey was playing baseball at Eastern Michigan University in Ypsilanti, Michigan. His family came to see him play, and after the game they headed to a sub shop down the street. The place had a line of 20 people stretching outside of the door. At first the family took this as a bad sign, but a member of staff told them to stick around. In less than five minutes, their food was in their hands. This was a defining moment, as they all were amazed at the speed and efficiency with which this businesses operated. Just a few months later, five like-minded Tomey family members, Fawzi, Tony, Anthony, Christine, and Michael, opened a Jimmy John's of their own in Novi, Michigan.
In 2003, the Tomey Group LLC was founded as a means to grow a brand the partners loved, and to bring the same expansion to brands throughout the country. As of May 2019, the Tomey Group has bought and opened more than 50 Jimmy John's locations throughout the Detroit Metro area.
Tomey Group is not your average franchise owners. Sitting back and delegating tasks from afar isn't their style. Instead, they're hands-on owners involved in all aspects of the business. They're committed to providing employees with what they need and deserve, no matter what that looks like. They know their employees' names, how they work, and what makes them tick. The Tomey Group's five partners and amazing upper management team has helped them accomplish their goal of satisfying employees with unparalleled support.
Experiencing growth at such incredible speed can come with challenges. As they add more stores, the amount of staff in which they put our trust gets bigger as well. That's why it's of utmost importance to them that their Director of Operations, Regional Managers, and all Area Managers are extensions of their values. The Tomey Group's management team is equally committed to carrying our core message and utilizing our techniques. Their unity is the foundation beneath our continuous and rapid growth.
The Tomey Group employs more than 850 people in the Detroit Metro area.
They're not ready to stop at sub shops. They're going to continue the hard work and dedication they put towards Jimmy Johns, and also plan to push forward into new ventures. Their goal is to continue to challenge themselves in the future as they grow and expand and engage with even more incredible employees.
*E – explicit language may be used in this podcast.