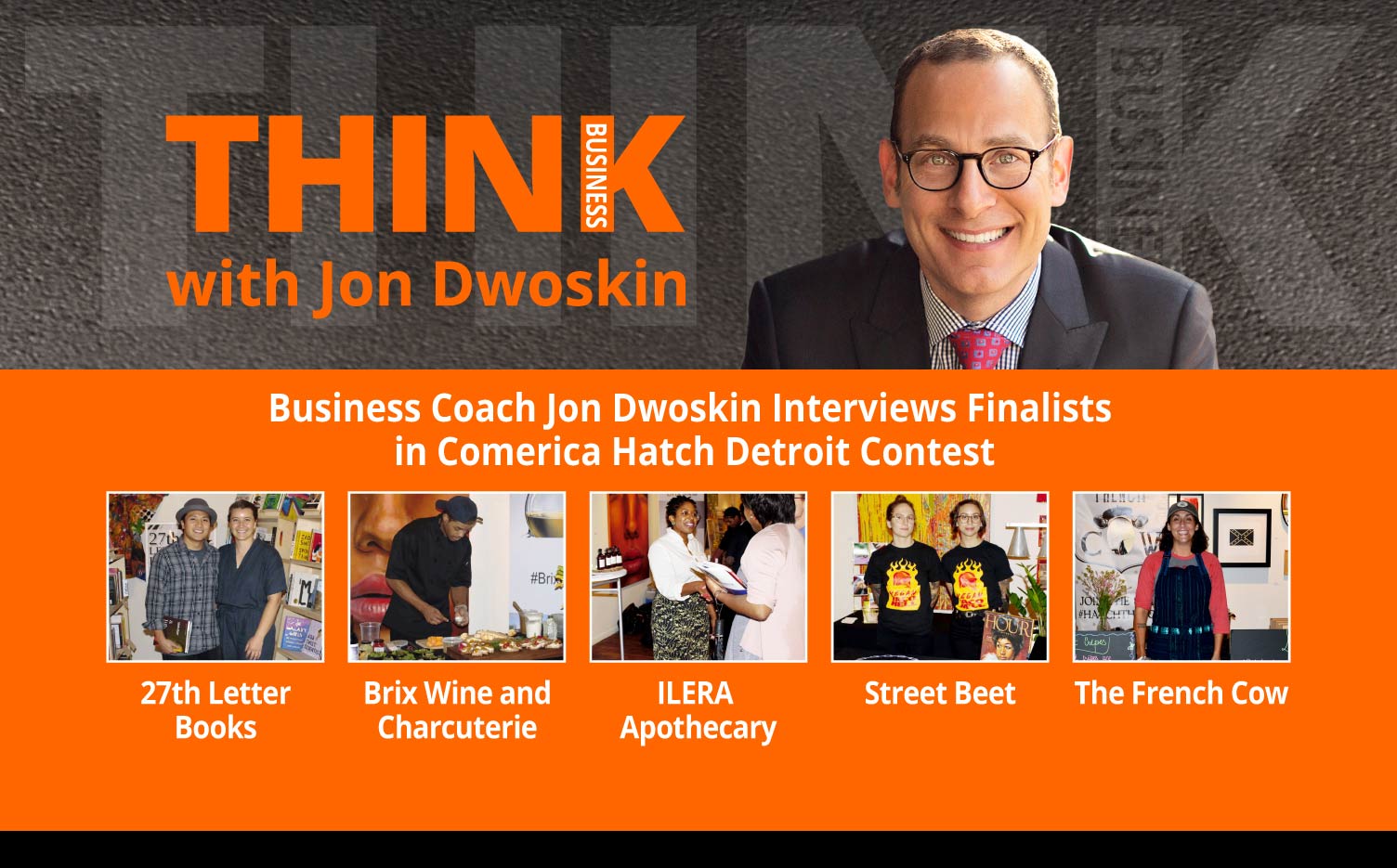 Finding Support and Guidance as a Startup
Detroiters have made their decision – and 27th Letter Books, Brix Wine and Charcuterie, ILERA Apothecary, Street Beet and The French Cow have all advanced to the final round of the Comerica Hatch Detroit Contest.
This is the first time in the contest's nine year history that five businesses have been named as finalists, and the stakes are higher than ever. All of these aspiring entrepreneurs are competing for $100,000 in startup funds from Comerica Bank, as well as $200,000 in pro bono support from Hatch Detroit and its partners, to open a brick and mortar business in Detroit, Hamtramck or Highland Park.
"We had such an incredible interest in this year's Comerica Hatch Detroit Contest, from the record 444 submissions we received, all the way down to the wire with the fourth and fifth businesses being so close in votes, that we decided to return the vote to the public and present five finalists instead of four," said Vittoria Katanski, executive director of Hatch Detroit. "Hatch Detroit prides itself on highlighting the value of unique, independent retail and turning to city residents for their input. This is the reason we continue to invest so much in Detroit's ever-growing small business community."
The public can continue to vote for their favorite business once every 24 hours from now until midnight on Thursday, Oct. 10.
The five finalists vying to take home $100,000 in this year's Comerica Hatch Detroit Contest are:
The public cast nearly 30,000 votes since the Top 10 semifinalists were announced on Sept. 27. The Top 5 finalists will now go head-to-head at the annual Hatch Off ticketed event, which is set for 6 p.m. Thursday, Oct. 17 at The Beacon at One Woodward, 1 Woodward Ave. in Detroit.
Hatch Off is a 'Shark Tank' style competition where entrepreneurs will present their business pitch to a panel of judges and an audience. Public voting, along with the judges' deliberation, will determine the winner of the 2019 Comerica Hatch Detroit Contest.
The public has until Oct. 10 to vote for the entrepreneur they think should be Detroit's next 'big' small business, and they can make their voices heard by:
Visiting hatchdetroit.com/vote;
Visiting Hatch Detroit's Facebook page, or when applicable;
Voting in-person at the following locations:

Sister Pie: 10 a.m. until 12 p.m. Saturday, Oct. 5
Peso: 5 p.m. until 7 p.m. Thursday, Oct. 10
"As Detroit continues its incredible rebirth and renaissance, we can drive further progress for our residents to flourish by delivering crucial resources," said Monica L. Martinez, Comerica Bank senior vice president of external affairs-Michigan market and national director of Hispanic business development. "Detroit's strong and ever-growing small business community is thriving, and we are proud that our partnership with Hatch Detroit positively impacts aspiring entrepreneurs and budding neighborhood businesses by providing a wide-range of support to help them succeed. These five entrepreneurs all have great futures ahead, and you see this through the outstanding response they have received so far. Each will offer a unique and desired business in our neighborhoods."
Since the start of the Comerica Hatch Detroit Contest in 2011, 44 Hatch alumni businesses have opened their doors in neighborhoods throughout Detroit, Hamtramck or Highland Park. Hatch Detroit has also provided more than $1 million of in-kind services to both contest winners and alumni.
About Comerica Bank
Comerica Bank, a subsidiary of Comerica Incorporated, has served Michigan longer than any other bank with a continuous presence dating back 170 years to its Detroit founding in 1849. It is the largest bank employer in metro Detroit and has more than 4,800 employees (FTE) statewide. With one of the largest banking center networks in Michigan, Comerica nurtures lifelong relationships with unwavering integrity and financial prudence. Comerica positively impacts the lives of Michigan residents by helping customers be successful, providing financial support that assists hundreds of charitable organizations, and actively participating in Detroit's downtown revitalization. Comerica Incorporated (NYSE: CMA) is a financial services company strategically aligned by three business segments: The Business Bank, The Retail Bank, and Wealth Management. Follow on Facebook: www.facebook.com/Comerica, Twitter: @ComericaBank and Instagram: @comerica_bank.
About Hatch Detroit
Hatch Detroit is a Michigan based 501(c)(3) organization supports both existing and new retail initiatives in the cities of Detroit, Highland Park and Hamtramck. Hatch Detroit was founded in 2011 to give residents and aspiring entrepreneurs a voice in the redevelopment of Detroit. Beyond the contest, Hatch Detroit provides funding, exposure and mentoring in support of its alumni entrepreneurs. Together, Hatch Detroit alumni have opened 44 businesses, employ over 500 people, and have invested over $7 million in their businesses. To learn more, visit www.hatchdetroit.com or connect with us on Facebook.

*E – explicit language may be used in this podcast.