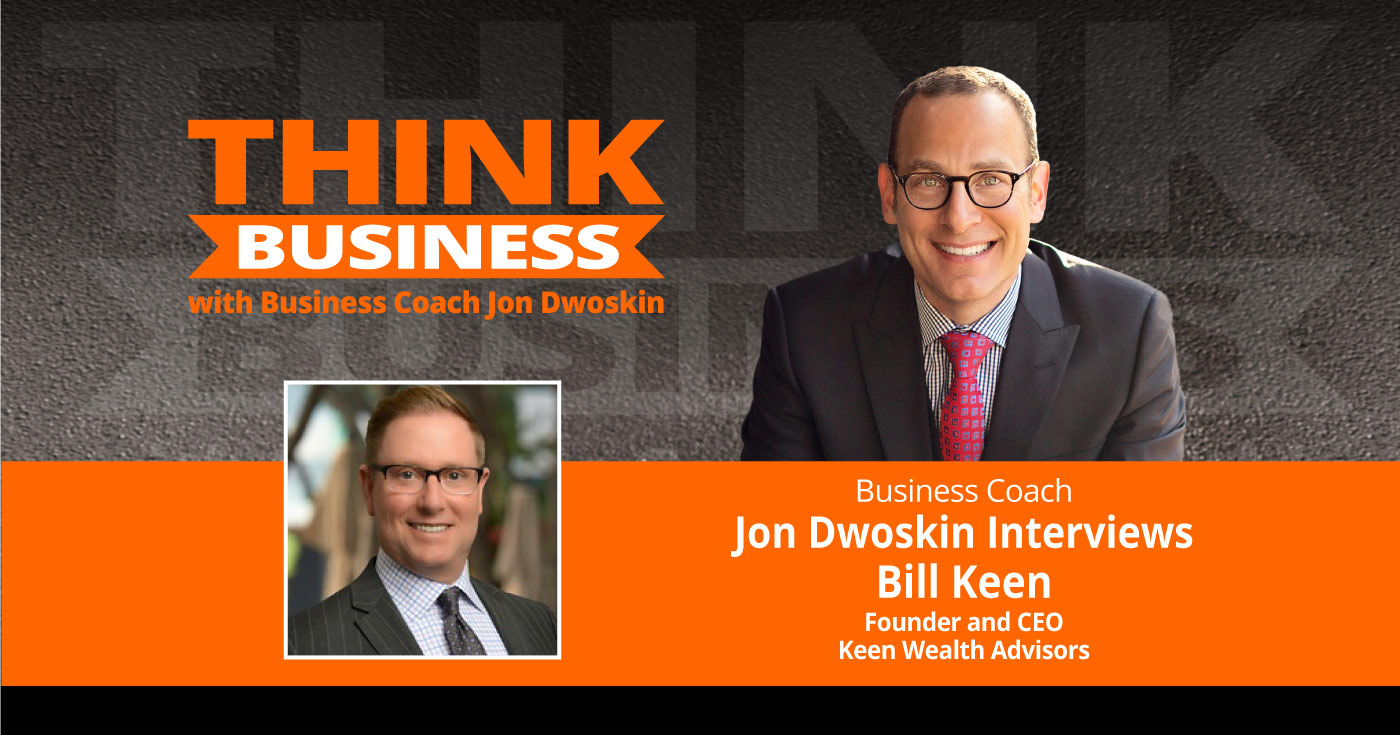 Mindset of Failure is Not an Option
Bill Keen, CRPC®, Founder and CEO, Keen Wealth Advisors
Bill Keen's interest in finances began at an early age when he was exposed to financial hardship. In his own words, "By age ten, I knew I would have to learn to understand saving and investing to be able to eventually assist my family." Even in high school, Bill was regularly on the pay phone between classes checking his stock positions. In 1985, while working as a health club attendant, he met a senior executive at a major airline who introduced him to the markets and helped him open his first investment account. Though young, he quickly realized that if he pursued that knowledge, he could impart this knowledge on others, especially those dealing with financial hardship like his own family.
As founder and CEO of Keen Wealth Advisors, Bill's desire was to build one of the country's most personal and trusted fiduciary wealth and retirement advisory firms. With the heart of a teacher, his objective is to bring financial and retirement literacy to those serious about planning for their future. In addition, Bill and his team have a unique specialty in advising those within the engineering community, on issues such as ESOP plans, compensation, taxes, and benefits planning. He brings nearly three decades of experience to the table.
Bill is the bestselling author of the book, Keen on Retirement – Engineering the Second Half of Your Life, which can be found on Amazon. He also co-hosts Keen On Retirement, a podcast designed to provide Keen Wealth Advisors' friends and clients with an additional tool to stay informed and educated on key issues related to retirement planning and investing. He is regularly asked to share his thinking with national media outlets such as U.S. News and World Report, Reuters, The Wall Street Journal's Market Watch, and Yahoo! Finance.
Bill is a board member for Angel Flight Central, a volunteer non-profit organization with a mission of serving people in need by arranging charitable flights for healthcare or other humanitarian purposes. Since its founding in 1995, over four hundred volunteer pilots have donated their time and planes to fly over nine million miles to serve over twenty-six thousand passengers in need. Bill has also served on the board of the Children's Center for the Visually Impaired, a Kansas City-based organization that helps children with visual impairment reach their highest potential in a sighted world.
Bill's other philanthropic causes include the Boys and Girls Club of America, Camp Quality Kansas, Camp Quality Missouri, Exodus Cry, Kansas District Optimists, and the AOPA.
He is a supporter of the cycling community and the title sponsor for the Big D Cycling team, as well as a contributor to the Kansas Cycling Association. The Big D Cycling team competes throughout the US and participates in bicycle rodeos to conduct helmet fittings and bicycle repair for children in the local community. In 2013, along with The Kansas Cycling Association (KCA), Bill announced "The Keen Wealth Cup," a traveling trophy that is awarded to the cycle team with the best overall record in the KCA Kansas Best All-Around Rider (KBAR) Series for a given year.
Bill and his wife, Carissa, reside in the Kansas City area where they enjoy the outdoors and the joys that come from having a blended family of five children. An avid aviator, Bill is an instrument-rated private pilot carrying high performance, high altitude, and complex endorsements. He is also a member of the Malibu/M-Class Owner and Pilots Association and regularly flies his Piper Meridian to various destinations around the country.
Bill greatly enjoys the personal aspect of Keen Wealth Advisors. He considers each client a friend.
He obtained a Bachelor of Science in Business Administration from the University of Central Missouri and has lectured on investing at the University of Missouri Bloch School of Business graduate program, as well as many major corporations in the Kansas City area. He also holds the Chartered Retirement Planning Counselor℠ designation.
*E – explicit language may be used in this podcast.