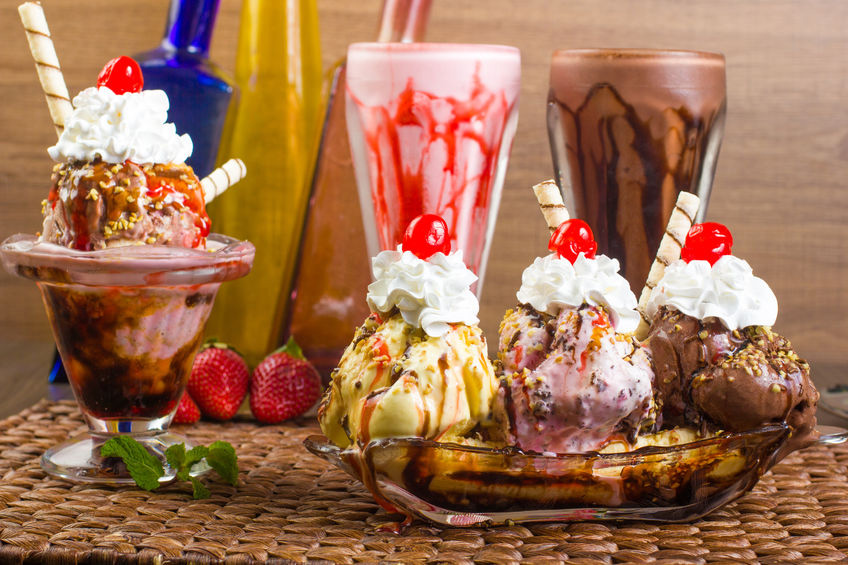 So, my family and I are in Florida and we go with our friends and their kids to a Miami Heat game. Lucky for us Detroiters, the Heat were playing the Detroit Pistons. What a great night! Terrible game for Detroit, but a great night for us. It was great to see where the Heat plays. (The stadium is not as grand as I expected it to be – Detroit's is better!)
Because Detroit was getting killed, we left with about eight minutes remaining in the fourth quarter. We went to South Beach with the kids, to a place called Sugar Factory. It was incredible.
We got there near closing time and we were the only people in the restaurant. We got some candy, ordered half a King Kong ice cream sundae for the kids (which was the greatest banana split-like dessert with 12 scoops of ice cream). It was unreal.  The kids also ALL ordered these massive fun drinks with candy in them. They were so colorful and so fun. The photos and descriptions in the menu were amazing. It was total fun. We had a blast.
For $315. That's right. The bill came and it was $315. All we could do was laugh. We realized afterwards that the drinks didn't even have prices in the menu. Each drink – non-alcoholic – was $32.  The kids loved every second of it and maybe had taken about 20 sips each. My buddy and I split the bill, got a great pic for social and loved every second of it ourselves.
What is the lesson here? It's very simple: Create an experience of a lifetime for every customer that walks in the door. Make things fun.
I want to emphasis ONE thing and ONE thing only.  The Sugar Factory, Starbucks, Disney, great restaurants – the list goes on and on – give us an EXPERIENCE and that is why we pay A LOT for them. We never think about price when it comes to these places. So, the question for you to ponder and resolve is this:
What is the [insert in your name/company/business] EXPERIENCE?
When you can answer that and create that for the customer (and rinse and repeat), you, my friends, have just taken your business to the moon!
Have fun!
Thanks for taking time to read my blog. Have a great and productive day!
Think Big!
Jon