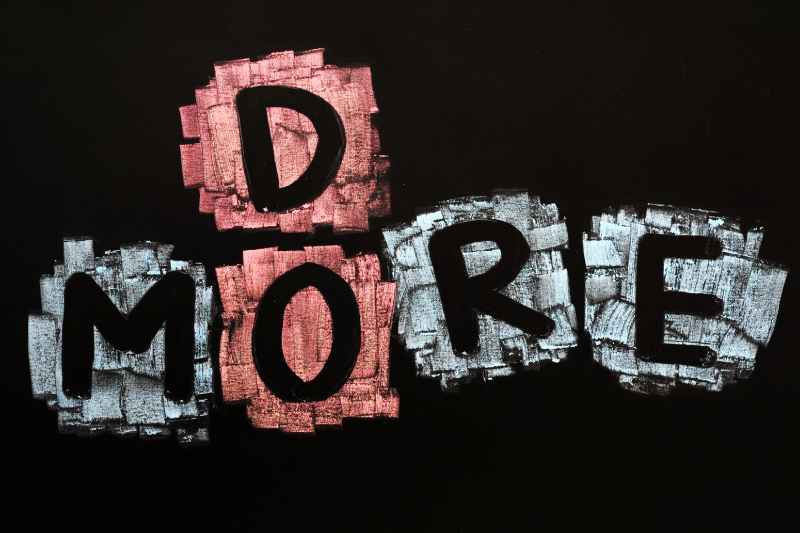 This week, the fellas help you chart your course for making Q2, your best quarter this year.
Let's make a plan and stick with it.
Scott and Jon also extoll the virtues of getting off your butt and taking action.
Do I smell a theme?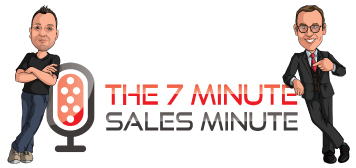 *E - explicit language is used in this podcast.
Read the full transcript
Scott: I'm Scott Fishman.
Jon: I'm Jon Dwoskin.
Scott: And this is The Seven Minute Sales Minute.
Jon: Welcome, everybody.
Scott: Hey, Jonny, how are you?
Jon: Good, Scotty. How you doing?
Scott: Doing well, man.
Jon: How's the day?
Scott: You know, I can't complain. It's been a nice quiet weekend. I needed it.
Jon: Nice. It's good to have a quiet time.
Scott: Yeah, absolutely.
Jon: I played tennis with my daughter today, and my son, individually. That's what it's all about. It was great.
But enough about us. Let's talk about our listeners, and let's talk a little about them. What we wanted to talk about, all of you today, is your 90-day plan. It is Q2 and this is – Scott and I have been talking about – probably the most important quarter for many of our listeners. It is a quarter that can set off the rest of the year in a very positive way as we plant seeds and build our business. So what we wanted to challenge everybody today with is a 90-day sprint plan to just catapult your business.
Scott, any thoughts?
Scott: I think it's great. Honestly, when you think about it, it doesn't matter what you did in the first quarter of the year. This is the most important quarter for many people. A lot of our listeners have large bank times for their products and their sales. So, not everyone is just doing car sales, or mortgages, or things like that where they close quickly. A lot of folks are working three, six, nine months on the same transaction. So, yes, this quarter is immensely important.
Jon: Let's talk about that for a minute or so. It's really important if you don't know the continuum of your business. You really should write out, on maybe a legal pad, month by month the continuum of how many weeks you really have to grow your business and to do business. And the reason Q2 is so important is because you have April, May, and June. You have Presidents' Week, which is the second-most traveled week of the year. But then you also have school being over in mid-June. And summer break is starting and people are starting to go away for the summer. So, if you take away two weeks from the twelve weeks, we really only have ten weeks. You throw in Memorial Weekend, and that can kind of – depending on how it is – now we really only have nine weeks. But still, it's a very important quarter because you still want to make sure you get twelve weeks' worth of work done in the nine weeks.
Scott: Right. So it's important to get out of the gates fast.
Jon: Right. Let's talk about a couple things that we can do, as far as, first a mindset. Scott, talk about mindset first.
Scott: As far as mindset goes on this, I think the way that we need to tackle this is by assuming that this quarter is by nature 25% of your business. Assume that we're going to be hitting 40% of our annual business in this quarter. We need to come out swinging for the fences and aim high. That way, if we miss the mark a little bit, hey, we're still above where we need to be to hit our goals for the year.
Jon: Well said. Now let's come up with a – not too detailed – but an action-packed plan where you can really just take your game to the next level. So, if you don't have a pen or paper, or pencil and paper, take some notes on your iPhone right now.
The first thing that we're gonna suggest everybody does, is dust off and/or create their top 30 client list. And then an action plan of what you're gonna do with them this quarter. How many times you're gonna see them. How many times you're gonna talk to them. How many times you're gonna email them. What you're gonna reach out. What value are you bringing to these top 30 people? Do they see you as a resource to grow their business, to do business with? And if they don't, that's a problem. So you gotta get in front of it. Your top 30 clients are people that you either do business with, repeat business with, can refer business to you, or people that you see yourself doing business with in Q2.
Scott: Right. And along those same lines, if you don't have … Let's say you only have 30 clients, or 30 prospects. Your top 30 make your top 30%. Aim for the top line, and feed your horses. We want to make sure that you're getting the most bang for your buck.
Along the same token, I always say, "Let's get rid of a little bit of dead weight down there, as well." I don't mind dropping off a couple of clients. Maybe figuring out some questions I can ask them, to see if they really are serious. And if they're not, and it's not gonna turn into business, I put them down on the tickler file. And trickle an email here or there to them; maybe a sporadic phone call, but I am not working that as hard as I am working that top 30.
Jon: Well said. Again, we want to give you not too much today, but stuff that's really gonna make an impact. We want you to really look at the meetings. Whether you do business on the phone, or you do business face to face. But whatever meetings you did first quarter, increase it ten to twenty percent this quarter.
Scott: Yes. I think we talked about a little bit, I have one giant note on my screen that says, "Do more." Do more of everything. Do more prospecting, if you were making two hours' worth of calls a day, make it two and a half. Make it three. If you were calling 20 people a day, make it 25. Make it 30. Make it 40. But do more of everything right off the bat.
Jon: Meetings, calls. And marketing. It's amazing. I think we've talked about this on past podcasts, where the best way to leverage yourself is through marketing. Because you can email, you can put things on social media, depending on compliance within your company. You can have different mailing lists for different groups. You can spit out information that's really valuable to your clients. So you can be on the phone or face-to-face with a client while your clients are getting emails from you, that are value-add.
Scott: Right. And something a little bit further is fast-starts. I think they are important in this situation. And what I mean by that is not only just a fast start to the quarter, but a fast start to your day – a fast start to your week, a fast start to your month. So start that Monday morning. Start it at 7:00 a.m. if you can. Start as early as possible on the first day of the week, and get it rolling so you don't have to play catchup. If you're not playing catchup at the end of the day, not playing catchup at the end of the week, and more importantly not at the end of a month or a quarter, you are going to win. Get ahead of the curve.
Jon: Well said. The whole goal is we are salespeople. And our whole goal is to build our pipeline. Make more money, build our pipeline, have more fun. So all of these – everything that we're doing here – I love what Scott said: Do more. And we've talked about this, and Scott and I talk about this. This isn't hard, you just gotta do it. If you do more, your pipeline grows. If you do less, your pipeline shrinks.
Scott: And do more of what actually provides results. What I find, I work in a situation where we have a lot of metrics. We're very metrics-driven with what I do. And there are certain stats you can pad, and I kind of call them metric masturbation. It's like, "Yeah, I did all this, look at these stats! I'm at the top of this list." But that list has nothing to do with how you get paid, or make money. You're just at the top of a list to be at the top of a list. So focus on working harder on the things that actually bring you results as well.
Jon: And, tune up your metrics. Like you were saying, it's important in sales to know your metrics, to know your conversion rates, so whatever you do on a daily basis, know your metrics. And like Scott said, I'm just going to kind of repeat what you said: the metrics that don't make you money, those are low-priority metrics.
Scott: Right. Exactly. You know you can only get so many jars of peanut butter from a certain amount of peanuts. So make sure that you plant more peanut plants. Are there peanut plants? Is that how peanuts grow? I don't even know.
But make sure that you're planting more plants at the beginning of the season to make sure that you have enough peanuts to make more peanut butter in the end. You have to focus on what actually is going to bring the results. It's not like you can make 1,000 jars for peanut butter, but if you don't have enough peanuts to make the peanut butter, then, you lose. Who needs a lot of peanut butter jars? It just doesn't make any sense, man.
Jon: Well, I think that's a great analogy. It's good, but you're right. So again, we talked about a lot of fundamentals today. I find this Scott, and I think you find the same thing: salespeople continually need a recap of these fundamentals to get what they need to remember that everything they do is building their business. And nobody can build their business except for them.
Scott: Right. And commit this to paper, figure out where you want to be in a week, in two weeks, in a month. Figure out where your milestones are, where your mile markers are. And hit them. And if you don't hit them, adjust accordingly. Or if you blow them out, adjust accordingly and go even further. But make sure that you're putting this on paper, don't just wing it.
Jon: Right. When I work with salespeople, it's very typical. We set a goal for the end of the quarter, we reverse engineer, month by month, week by week, day by day. And you should know exactly what you need to do every single day. If things get away from you, course correct it the next day or throughout the week so it's not overwhelming. But don't just let it go.
Scott: Course correct. I like that.
Jon: Thank you very much.
Scott: You're welcome. So Jon we talked a little bit … This is a great topic, this is wonderful. And we had talked a little bit last week about taking action. And there was something that I mentioned to you that I wanted to bring up. We talk about doing stuff. When we decided to start this podcast we had no idea what the hell we were doing.
Jon: No idea. We sat at your kitchen table for, like, four hours. We talk about releasing it sometimes, writing a script out what we know …
Scott: Oh, my gosh. It was terrible. But at the end of the day. We didn't know what we were gonna do, but we took action. We had no idea, we just did it. The same thing with this: you wrote a book, you started your business. I've written books. And I had no idea what the hell I was doing. I just did it. And when people hear that I wrote a book, and had a podcast, they're like, "Okay. How did you do it? You gotta teach me this." And it's like ya know what, I taught myself. I took action. I don't mind giving you some advice but I'm not gonna do it for you. If you want to do something, just do it.
Jon: Yeah, I couldn't agree more. I just want to say one thing. Your three books, which I know are coming out as a collection of books … If you're listening to this, you really should think about buying Scott's books. And I know this is not a plug, and Scott didn't ask me to say this, but they're solid, solid books to up your game. They're fast reads. They're good reads. They're rich in content leads and they're targeted specifically for salespeople.
That's just a plug for you because I think it's important. But, also, my sister-in-law just got back from Anthony Robbins – Unleash Your Power Within. Eight thousand people in California and she had dozens of takeaways. One of them was, that if you want to do something, then go do it. Because it's too easy not to do it. And it's all about mindset and if you want to live in the story that's been created or that you've created for yourself, then you're not gonna get where you want to get to. So take action every day and do something to move your idea forward and just explode yourself.
Scott: If one human is doing it, you can do it, too. Plain and simple. If somebody else can do it, I can do it. I might not be able to dunk a basketball, but … Might not be able to be on the cover of GQ. But if someone else can write a book, I can write a book. If someone else can have a podcast, or do a video, or start a business of any sort, it's something that you and I can do as well. There's nothing holding us back but ourselves.
Jon: Right. Let these words, whoever's listening and who needs it, be that extra kick in the ass you need to start mapping out a plan and do what you want to do.
Scott: Right. Figure out where you need to be 90 days from now, and then do more.
Jon: Right. Amen.
Scott: Period. The end. Done. We're done. Drop the mic.
Jon: All right, thank you for listening, everybody. Have a great day.
Scott: Thanks everybody for listening. Now, no excuses. It's time to put everything you listened to into action. Stop lying to yourself. Stop listening and doing nothing with this information. Take this information, implement it into your day, grow your business, grow yourselves. Make more money. Have more fun. Have a better life. Period. The end.
Jon: What he said.